Ginger spiced banana bread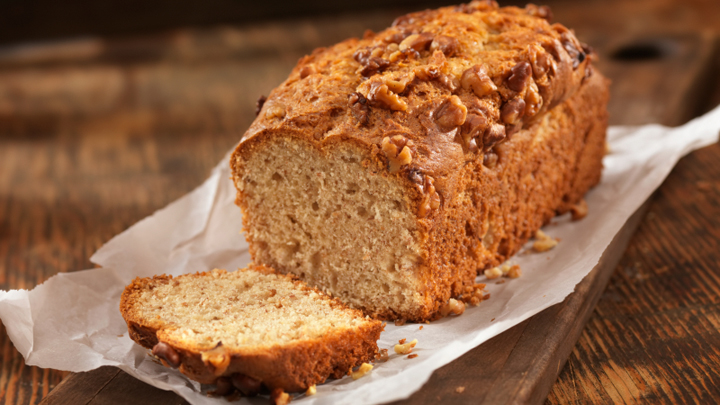 We all love banana bread but there's something magical about ginger spiced banana bread! The smell of this recipe is just divine.
Pair with a bit of butter for a delicious afternoon treat or morning tea slice.
Ad. Article continues below.
3 very ripe bananas, mashed
1/4 cup Greek yoghurt
1/4 cup milk
1/2 tbsp fresh minced ginger
1 tsp vanilla extract
1/4 cup butter, softened
2 egg whites
1 cup sugar
2 cups all-purpose flour
1 tsp baking soda
1 tsp ground cinnamon
1/4 tsp ground cloves
1/4 tsp ground nutmeg
1/4 tsp sea salt
Method
Preheat the oven to 180 degrees. Prepare a 4-inch by 8.5-inch loaf pan; grease the bottom and sides of each pan with butter and dust lightly with flour. Set aside.
In a mixing bowl, use the back of a large fork to mash together the bananas, Greek yoghurt, milk and ginger. The mixture should be well-mixed with small chunks of banana remaining. Blend or mix on low speed, adding the vanilla, butter, egg whites and sugar, until well-combined.
Sift together the flour, baking soda, cinnamon, cloves, nutmeg and salt. Add the dry ingredients to the mixer, a half cup at a time until just mixed. Be careful not to overbeat. Pour the batter into the prepared loaf pans.
Bake for 1 hour, until the tops are golden brown and a cake-tester inserted into the middle of each loaf comes out clean. Remove the pans from the oven and let cool on a baking rack for 10-15 mins. Run a knife around the edge of the pans, and gently flip over to remove the loaves. Let cool completely on a baking rack. Slice and serve.
The bread can be stored for up to a week, if refrigerated and wrapped in foil or plastic wrap.
Ad. Article continues below.
—————————————————–
If you'd like to see more recipes from Starts at 60, click here. And if you have a recipe you'd like to share with the Starts at 60 community – we'd love to share it! Submit them to us by completing the form below.
Submit your article here