Fully loaded creamy potato salad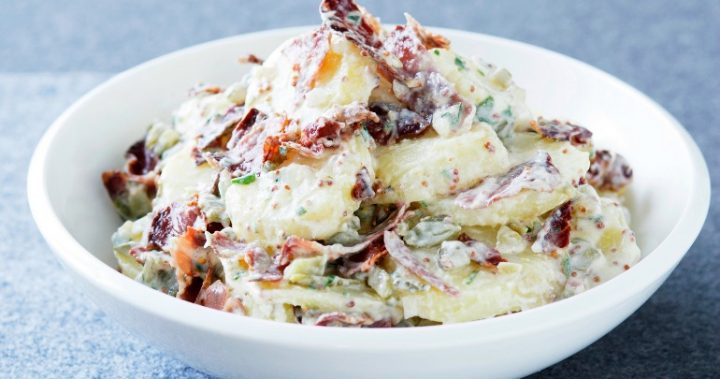 This delicious recipe takes the traditional potato salad and adds a Mediterranean twist.
Packed with flavour, this recipe is versatile enough to feature in any meal throughout the day and with festivities almost upon us, it's also the perfect addition to the lunch or dinner table.
The delicious, creamy dressing is made with mayonnaise, Greek yoghurt, balsamic vinegar and spicy mustard, which all work together to create a fantastic flavour. Meanwhile, the addition of tasty, juicy chorizo adds the perfect Mediterranean twist, while pickled cucumbers and boiled eggs help bulk out the flavour.
It's so tasty your guests will be begging for the recipe!
Ingredients
1kg baby red royal potatoes, quartered
2 chorizo, thinly sliced diagonally
3/4 cup whole-egg mayonnaise
1/4 cup plain Greek yoghurt
1 1/2 tbsp white balsamic vinegar
2 tsp Dijon mustard
1 tsp caster sugar
3 celery sticks, sliced
3 spring onions, sliced
60g baby spinach leaves
3 hard-boiled eggs, sliced
1/3 cup drained pickled baby cucumbers
Method
Place potato in large saucepan, cover with cold water.
Bring to boil over high heat then reduce heat to medium and cook for ten minutes.
Drain, rinse under cold water, drain.
Meanwhile, place chorizo in medium fry pan over medium heat.
Cook for eight to ten minutes or until crisp. Remove from heat.
Whisk mayonnaise, yoghurt, vinegar, mustard and sugar in large bowl.
Combine potato, celery, onion, spinach, chorizo, egg and pickled cucumbers in large serving bowl.
Mix through dressing and serve.