French Onion Soup Gratinee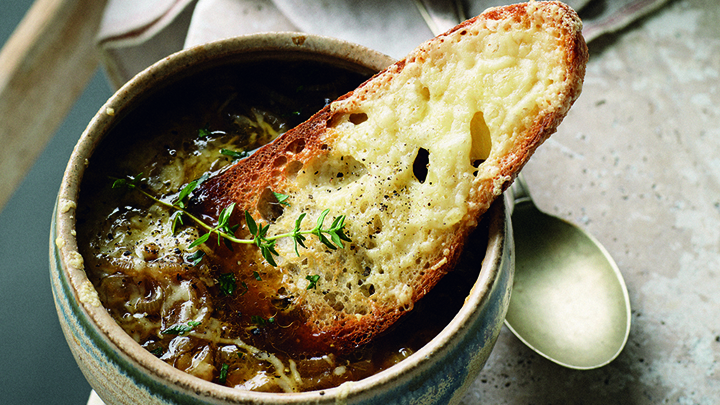 There are a lot of French Onion Soup recipes out there but this very authentic version deserves a place on the list.
It is also more detailed than others but don't be put off by the long list of ingredients – this has the seal of approval by Margaret Fulton and her wonderful granddaughter, Kate Gibbs.
The result is an out-of-this-world onion soup with an amazing depth of flavour.
Serves 4–6
Ad. Article continues below.
Preparation – 25 minutes
Cooking – 1 hour
Ingredients
45 g (1¾ oz) unsalted butter
1 tablespoon olive oil
1 kg (2 lb 4 oz) brown onions, thinly sliced
2 litres (70 fl oz/8 cups) homemade beef stock
2 teaspoons plain (all-purpose) flour
125 ml (4 fl oz/½ cup) dry white wine
sea salt and freshly ground black pepper
1–2 tablespoons brandy
10 thick slices sourdough baguette, toasted
100 g (3½ oz/1 cup) finely grated gruyère cheese
fresh thyme sprigs, to garnish
Ad. Article continues below.
Method
Melt the butter in a large, heavy-based saucepan, add the oil and onion and sauté gently for 30–40 minutes, stirring occasionally, or until softened and deeply golden.
Meanwhile, heat the stock in another saucepan until it is very hot.
Add the flour to the onion and stir over moderate heat for 3–5 minutes, to cook the flour. Add the hot stock and wine, season to taste and simmer for 20 minutes, then remove from the heat and stir in the brandy.
Turn the grill (broiler) to medium–high. Spoon the soup into 4 large or 6 small individual ovenproof bowls and place them on a baking tray. Divide the toasts between the bowls, overlapping a couple of slices to fit. Push the toasts down a little so they soak up the soup. Scatter over the cheese and place the tray under the grill until the cheese melts and turns golden.
Alternatively, if the bowls will not fit under the grill, divide the cheese between the bread slices, grill until melted and golden, then slip a slice or two into each bowl of hot soup.
Garnish each bowl with a thyme sprig and serve.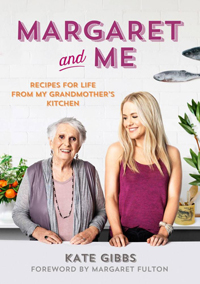 Recipe and image from Margaret and Me by Kate Gibbs (Murdoch Books) $33.95, available now via Booktopia.