French onion soup cob loaf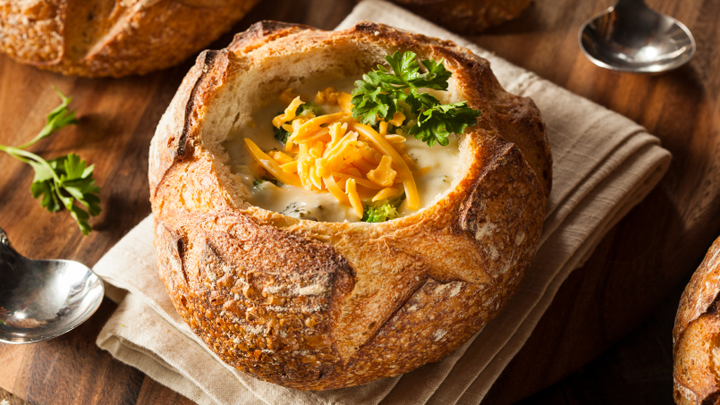 This recipe will warm your soul. The bread is crusty on the outside and soft and fluffy on the inside. The great part is that it is so versatile – you can choose the bun and soup you prefer. We found a great french onion soup recipe for you to try in your bread bowl. This dish is the complete package.
Take a look at the recipe below!
Ingredients
2 medium onions
2 ounces gruyere cheese
2 Tablespoons red wine vinegar
1 bunch fresh parsley
1 shallot
1 Tablespoon dijon mustard
1 1/2 ounces vegetable demi-glace
1/4 cup grated parmesan cheese
2 sourdough buns
Ad. Article continues below.
Method
Preheat the oven 260 degrees Celsius and prepare ingredients: peel and mince the shallot (place in bowl with red wine vinegar), peel and slice onions, pick parsley leaves off stems and chop, and thinly slice and grate the cheese.
Heat pot with oil and caramelise the onions.
Stir the mustard into the shallot-vinegar mixture and season with salt and pepper. Slowly whisk in 1 to 2 teaspoons of oil until well-combined.
Prepare the bread bowls while the onions continue to caramelise. Cut and save the tops of the buns. Use your fingers to scoop the soft bread out to create  two hollow bread bowls. Toast in oven for 2 to 3 minutes. Remove and set aside.
Once onions are caramelised, season with salt and pepper. Add parmesan cheese, vegetable demi-glace, 2 1/2 cups of water and a pinch of Gruyere cheese (save the rest for later). Cook for 5 minutes or until slightly thickened and reduced in volume.
Divide soup into the bread bowls and add remaining cheese. Place back on the sheet pan and bake for 5 to 8 minutes or until cheese is melted and bubbly. Garnish with parsley!
Tell us, have you ever made a homemade soup bowl? Will you try this recipe?