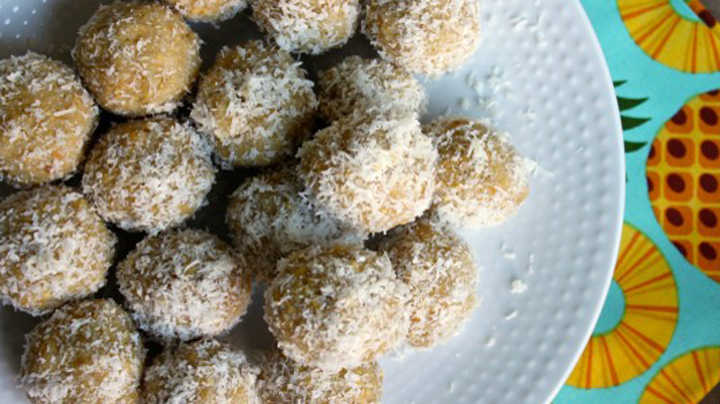 Finally, a bliss ball recipe without dates! Check out these gorgeous pineapple balls. They're the perfect combination of sweet and chewy. You can always swap the pineapple for dried fruit of your choice, as well, you can swap the cashews for the nuts of your choice like macadamias, almonds or brazil nuts. Better yet, the recipe is great with a few choc chips added right at the end!
Ingredients
Makes 18 balls
100g dried pineapple
1 cup raw cashews (140g)
1 ½ cups shredded coconut (110g)
1 tablespoon lime juice
2 teaspoons coconut oil (solid)
Zest of ½ a lime
Pinch sea salt
½ cup desiccated coconut (optional)
Ad. Article continues below.
Method
Place the pineapple into a food processor and blend on a high speed for 10-20 seconds.
Add the other ingredients to the processor and mix on high for about 2 minutes or until thoroughly combined and the mixture sticks together. Continue to scrap down the sides and mix.
Roll tablespoon sized balls with the mixture then roll in (optional) coconut.
Refrigerate for ½ an hour before enjoying!
The original recipe can be found at Cutoutthecrap.com.au.
Tell us, will you try making these balls? Have you ever made bliss balls before?