Forget the slow cooker – make chicken stock quickly with this stove recipe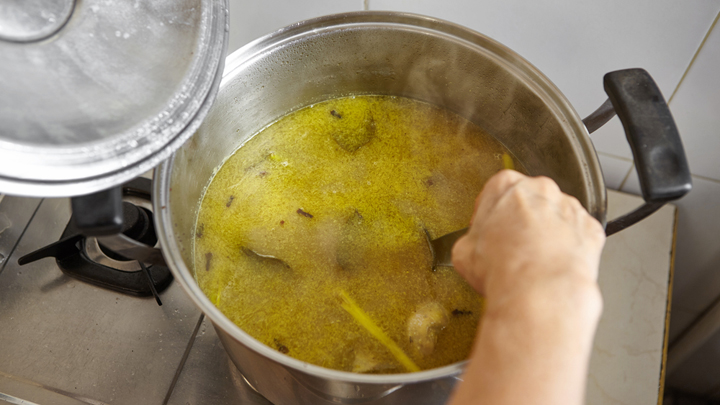 By now, many of us have put our slow cookers away and are getting ready to make fresh spring and summer meals without it.
You don't have to pull it out again if you need to make chicken stock – you can make it on your stove, and it will taste even better.
Slow cooker broth tends to end up looking more pale, thin and less flavoursome than what you can cook on the stove.
Here's how.
Homemade chicken stock on the stove
Ad. Article continues below.
1 whole roasting chicken, giblets removed
1 large onion, quartered
2 carrots cut into large chunks
3 celery stalks
1 whole garlic bulb, cut in half
2 teaspoons salt
1 teaspoons whole black peppercorns
15-20 sprigs parsley
1. Place all of the ingredients into a large pot. Fill with enough water to cover about 3-5cm over the ingredients.
2. Bring to a boil, then reduce to a simmer, uncovered, for about 1.5 – 2 hours, until chicken is cooked through. Skim off any foam that might form and rise to the top.
3. Remove chicken from stock pot and place in a large pan. Keep stock on a low simmer. When chicken has cooled down enough to handle, remove meat and use as desired. Place the bones back into stock pot and cook for another hour or so. If time is a concern, you can skip this part.
4. When stock is finished simmering, carefully strain through a fine sieve.
Ad. Article continues below.
5. Stock can be used immediately, or once stock has cooled completely, you can place in the refrigerator overnight.
6. The next day, skim any fat that has risen to the surface. Stir well and place in freezer containers.