Forget the bakery: Make these crumbly, delicious (and easy!) apple turnovers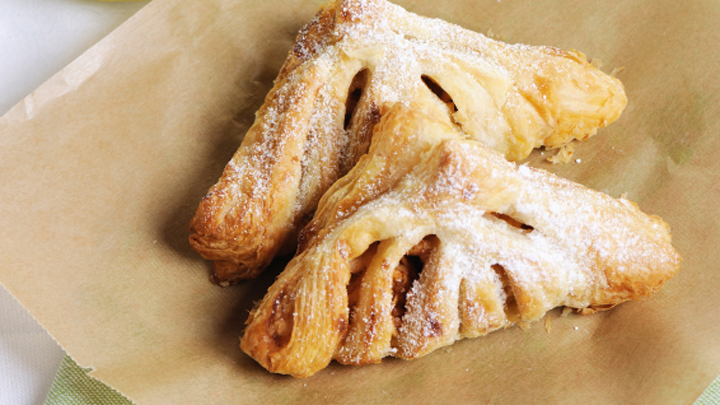 You'll need just six ingredients to make these crumbly apple turnovers!
Who needs the bakery when you can rustle up these yummy treats?
Ingredients
4

 apples, peeled and chopped

2 

tablespoons butter

1/2 

cup packed brown sugar

1 

teaspoon ground cinnamon

2 

teaspoons cornstarch

1 

sheet frozen puff pastry, thawed
Method
Ad. Article continues below.
Defrost the puff pastry in the fridge overnight.
Peel, core and chop the apples and then combine them in a frypan with the brown sugar, butter, cinnamon and cornstarch.
Bring to a boil, and then reduce heat and simmer until apples are tender and mixture is thickened (around 5 minutes). Remove from heat and let cool while you prepare the puff pastry.
Unfold the thawed puff pastry on a lightly floured surface and use a rolling pin to roll it out into a large square about 30cm on each side. Trim the puff pastry as needed to make an even square.
With a knife, divide the large square into four smaller squares.
Make an egg wash by combining 1 egg with 1 teaspoon of water. Brush the puff pastry squares with the egg wash and then spoon some of the apple filling into the centre. Exactly how much filling you'll need will depend on the size of your squares.
Fold the puff pastry square onto itself, forming a triangle. Use your fingers to press all of the edges together. Press the edges with the back of a fork to seal them completely. Brush turnovers with more egg wash.
Sprinkle with coarse sugar, or cinnamon sugar, if desired. With a sharp knife, cut a few vents into the top of each turnover. Bake until turnovers are golden, about 25-30 minutes and serve immediately.
—————————————————–
If you'd like to see more recipes from Starts at 60, click here. And if you have a recipe you'd like to share with the Starts at 60 community – we'd love to share it! Submit them to us by completing the form below.
Submit your article here