Five ingredient lemon meringue pies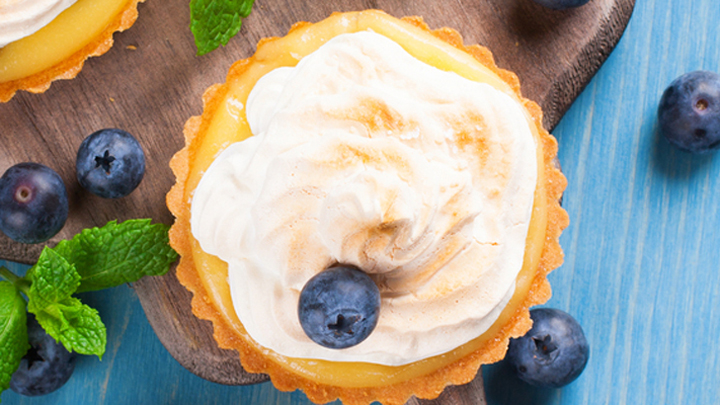 These little lemon meringue pies are the perfect finish to a dinner feast. They've got a buttery, crisp crust and a creamy, tangy curd – all topped off with a yummy meringue.
Ingredients
Serves 6 
6 frozen Pampas sweet tart cases
160ml (2/3 cup) sweetened condensed milk
2 tablespoons fresh lemon juice
2 egg whites
70g (1/3 cup) caster sugar
Method
Ad. Article continues below.
Preheat oven to 200 degrees C. Place tart cases on a baking tray and bake for 10 minutes or until brown.
Combine the condense milk and lemon juice in a bowl.
Use an electric beater to whisk the egg whites in a clean, dry bowl until firm peaks form. Then add the sugar, continue beating until the sugar dissolves.
Spoon the mixture evenly among the tart cases.
If you are interested in making your own tart cases, here's a great recipe to try:
Crust Ingredients
6 tablespoons unsalted butter at room temperature
3 tablespoons sugar
1 large egg yolk
Pinch of salt
3/4 cup all-purpose flour
1 teaspoon sour cream or yoghurt
Method
Beat the butter in a medium bowl with an electric mixer until smooth. Add the sugar and salt and continue to beat until evenly combined, then beat in the egg yolk.
Add half of the flour, beating until just crumbly. Add the remaining flour and then the sour cream or yoghurt; beat until dough is evenly moistened. Then turn dough onto a lightly floured work surface and knead to bring it together.
Roll dough between two floured sheets of waxed paper into a circle (1/2cm thick) with a rolling pin and refrigerate for one hour.
Cut out 6 rounds using an inverted bowl and place in muffin tins. Use your fingers and press the corners about halfway up the sides for a snug fit. Freeze dough in muffin tin for about 30 minutes.
Preheat oven to 160 degree C. Spray the outside of 6 standard muffin lines with cooking spray and place in the crusts; fill with pie weights. Bake crust until brown, approximately 25 to 30 minutes. Remove and let cool for about 1 minutes, then remove the muffin lines and pie weights. Return pan to oven and continue to bake until crusts are cooked through about 15 to 20 more minutes. Let cool before carefully removing crusts from the tin.
Tell us: are you a lemon meringue pie fan? Will you give this recipe a try?