Five healthy festive Christmas treats!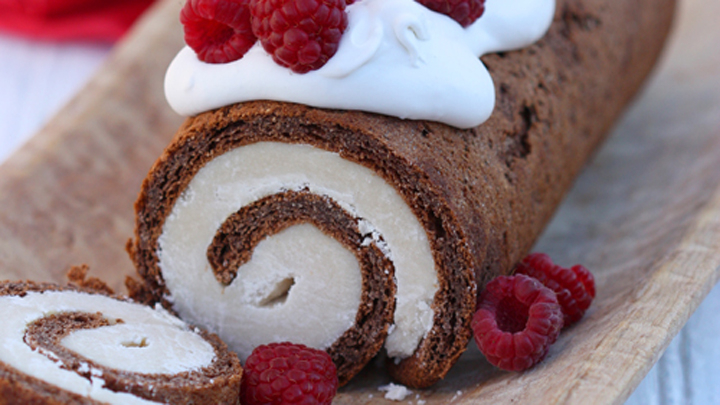 One of the best and worst things about Christmas is the food… It is the best because you know Christmas treats are delicious but it is the worst because you know they will cost you your waistline. But, with some clever tweaking, you can turn some of the naughtiest Christmas treats into healthy ones.
Here are some of the best recipes to make your Christmas a little bit healthier. They are great because the kids and grandkids will love them as much as you do and many are perfect for when you need to "bring a plate". So take a look and tell us, what are your favourite healthy Christmas treats?
1. Watermelon trees
Ad. Article continues below.
This is the most simple but highly effective.
Ingredients
Method
Slice watermelon in half lengthways.
Slice through the halves about 1 inch thick.
Slice these into triangles.
Trim around the rind so only a 1 inch piece is left at the bottom of each triangle.
Enjoy!
Ad. Article continues below.
2. Coconut cream roulade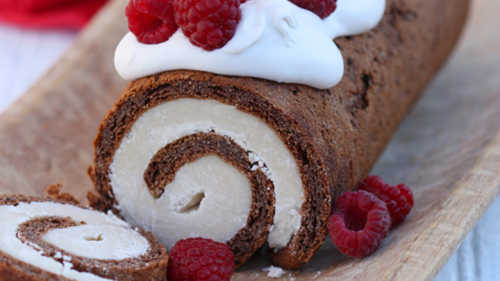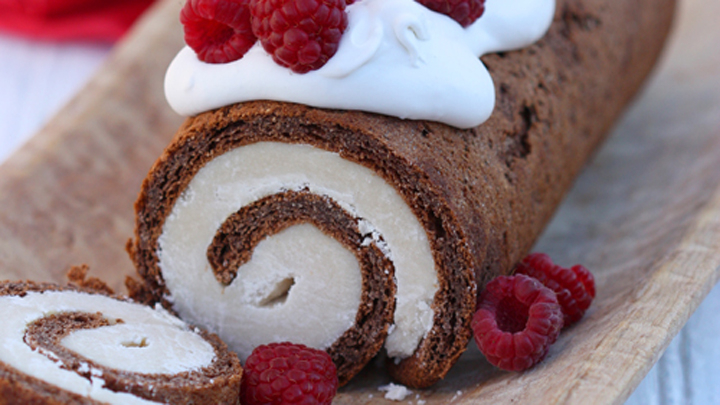 Ingredients
1/2 cup cooked butternut squash or sweet potato
3/4 cup cashew or almond milk
1/3 cup coconut flour, sifted
1/4 cup honey
3 tablespoons cocoa powder
2 tablespoons coconut oil, liquified
1 tablespoon vanilla extract
1/2 teaspoon sea salt
1/4 teaspoon baking soda
1/8 teaspoon vanilla stevia
2 tbs almond meal
Ad. Article continues below.
For the filling: 
1.5 cups Coconut Cream Concentrate, melted
1/2 cup honey
1/4 cup + 2 tbsp water (or slightly more as needed)
1 tablespoon vanilla extract
1/8 teaspoon liquid stevia or 2 teaspoons powdered stevia
Method
Add the squash, cashew milk, honey, coconut oil, vanilla, salt, baking soda, and stevia to the blender or food processor. Then add the psyllium husk powder last. Puree until smooth. Transfer to a mixing bowl.
Add the sifted coconut flour and cocoa powder. Mix with an electric mixer.
Scoop the dough onto a piece of unbleached parchment paper using a flexible silicone spatula. Flour the top slightly with cocoa powder and roll to about 9 x 11.5 inches. (I like to go around the edges of the dough with my hands, pressing the dough in to help make a nice rectangle while I'm rolling it out.)
Bake at 350 degrees for about 30 minutes.
Note: It won't seem cooked through until it's cool.
Allow to cool completely (about two hours).
Spread the filling (recipe follows) evenly and roll.
Store and serve at room temperature. Top with whipped coconut cream and raspberries.
For the filling: 
Ad. Article continues below.
Combine all of the ingredients in a mixing bowl. Store at room temperature.
3. Strawberry Santas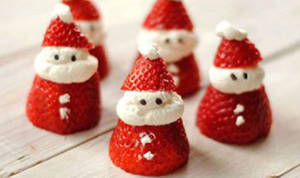 Ad. Article continues below.
Ingredients
Frosting:
1/4 cup mascarpone cheese, at room temperature
1/4 teaspoon pure vanilla extract
1 cup powdered sugar
Santas
12 large strawberries
24 mini chocolate chips
Ad. Article continues below.
Method
For the filling:
Special equipment: Pastry bag fitted with a small star piping tip
For the frosting: In a medium bowl, using an electric hand mixer, beat the mascarpone and vanilla until smooth. Gradually beat in the powdered sugar until the mixture is thick and smooth. Using a spatula, transfer the frosting to a piping bag fitted with a small star piping tip.
For the Santas:
Ad. Article continues below.
Using a paring knife, cut off the leaf-end of each strawberry to make a flat surface. Cut a 1/2- to 3/4-inch piece from the pointed end of each strawberry and reserve as the hats.
Place the strawberries, wide-side down, on a work surface. Pipe a 3/4-inch-high swirl of frosting on each strawberry. Place the hats on top and pipe a small ball of frosting on top of the hats. Press two chocolate chips, pointed-sides inward, into the swirl of frosting to make eyes.
4. Cheese Ball Pops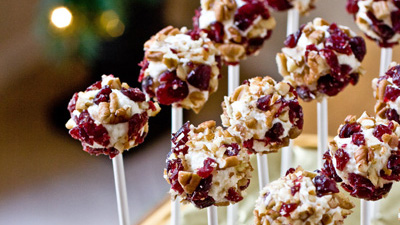 Ingredients
1/2 cup

finely chopped pecans

1/2 cup

finely chopped dried cranberries

4 ounces

crumbled feta cheese, at room temperature

4 ounces

cream cheese, at room temperature

1 cup

Swiss cheese, shredded

2 teaspoons

honey

16

lollipop sticks
Ad. Article continues below.
Method
Combine the pecans and cranberries in a shallow dish.
Mix the cream cheese, feta, Swiss and honey in a food processor until it's combined. Measure out the cheese mixture a tablespoon at a time and roll each spoonful into a ball with the palms of your hands. Then roll each ball into the pecan-cranberry mixture, coating all sides evenly. Place each ball on a tray lined with parchment or waxed paper. Insert a lollipop stick into the center of each ball. Carefully cover the tray in plastic wrap and transfer it to the refrigerator to chill for at least one hour.
Remove the tray from refrigerator 15 minutes before serving.
Optional: If you'd like to display the cheese log balls in an upright position, you can do so using a block of styrofoam (found at craft stores) to hold the lollipop sticks in place.
5. Christmas tree meringues 
Ad. Article continues below.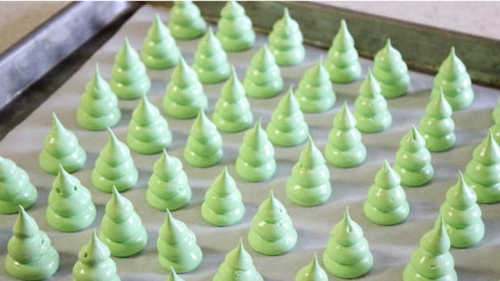 Ingredients
4 Egg Whites
1/4 cup stevia
1/4 TSP Salt
1/4 TSP Cream of Tarter
Green gel food colouring
Parchment Paper
Pipping Bag
Large Round Tip
Rainbow sprinkles
Method
Preheat oven to 150-170 degrees. In the bowl of an electric mixer separate egg yolks from egg whites. Let the eggs come to room temp.
Beat eggs until white and foamy. Mix in 1/4 tsp salt and 1/4 tsp cream of tarter until soft peaks form.
Set timer for 7 minutes. Slowly add in stevia a bit at a time taking the entire 7 minutes to do so.
Put the piping bag upright in a glass and wrap the plastic over the sides. Mix in the food colouring and pour into piping bag
On a lined baking tray with parchment paper, pipe dots of meringue mixture in rows.
Layer two dots of meringue mixture onto the first so it is a tiered shape with three levels.
Sprinkle some coloured sprinkles over each tree.
Now bake at a very low heat for about one hour to until they are nice and crisp. Make sure they don't brown too much. If the temperature is too high they will cook on the outside too quickly and the inside will remain gooey.
Take out, leave to sit for an hour and enjoy!