Filling banana and berry breakfast biscuits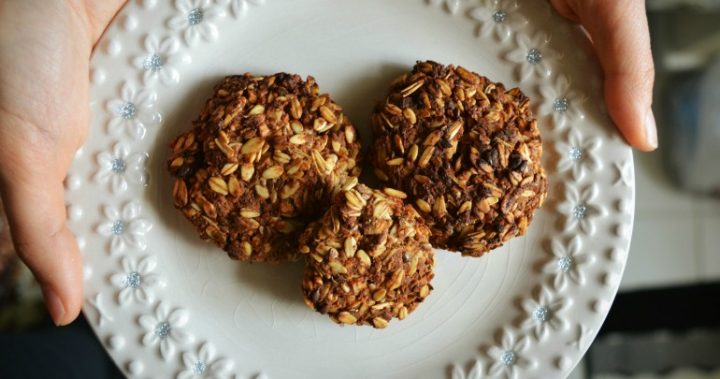 These yummy biscuits are perfect for those who like to snack on the go without sacrificing on health or flavour. As an added bonus, they're easy to whip up, too!
They're packed with rolled oats, fresh banana and nuts and use maple syrup and blackberries for sweetness. Mixed spice helps to create a rich depth of flavour, while vegetable oil binds it all together.
They make a perfect morning or afternoon snack and can also be used as a tasty breakfast accompaniment.
Ingredients
2 1/2 cups traditional rolled oats
1/2 cup slivered almonds
3/4 cup mashed banana (see notes)
1/2 cup almond spread
1/2 cup vegetable oil
1/3 cup maple flavoured syrup
2 teaspoons vanilla extract
1/2 teaspoon mixed spice
1 cup frozen blackberries
Method
Preheat oven to 180°C and prepare two large baking trays with baking paper.
From the measured ingredients serve 1 tablespoon of oats and one of the slivered almonds.
Place the oats, almonds, banana, almond spread, oil, maple syrup, vanilla and mixed spice in a bowl and mix until combined. Now stir in the blackberries.
Press tablespoons of the mixture together and place on prepared trays, 3cm apart.
Bake for 25 minutes or until golden and stand for 10 minutes.
Enjoy as a tasty breakfast snack or a delicious afternoon tea treat!