Feta and spinach omelette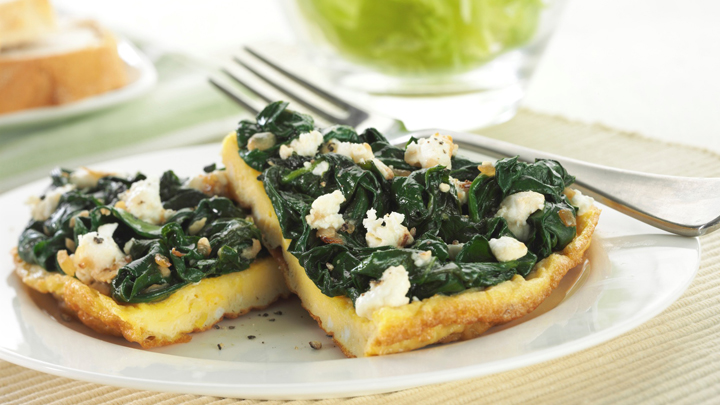 Friday was World Diabetes Day – a day to raise awareness of an illness that affects one million Australians.
For those of us who are living with diabetes, it is important to closely manage the types of foods being eaten, as well as include a variety of nutritious foods in the diet. This will lower the risk of developing certain lifestyle-related diseases such as obesity, type 2 diabetes and high cholesterol levels.
This recipe is not only good for your health, but it also tastes amazing!
Ingredients – Serves 2
1/2 bunch English spinach
1 tsp olive oil
1/2 small onion, finely chopped
1 garlic clove, crushed
30g reduced fat feta, crumbled
4 eggs
Salad, to serve
Crusty wholemeal bread, to serve
Ad. Article continues below.
 Method
Pull the spinach leaves from the stalks. Wash and dry the leaves, then finely shred. Heat half of the oil in a 24cm (top measurement) non-stick frying pan. Cook the onion over medium heat for about 4-5 minutes, until soft and lightly golden.
Add the garlic and cook for 1 more minute. Add the spinach and mix through the onion. Stir until wilted slightly. Sprinkle the feta over the top.
Lightly beat the eggs in a jug, and season. Pour the eggs into a frying pan. Cook over medium low heat for 5 minutes, until set underneath. Cook the top of the omelette under a hot grill for 2-3 minutes, until set. Alternatively, slide the omelette onto a plate, and invert back into the pan. Slide out onto a plate and cut into 6 wedges. Serve with salad and crusty bread.
Tip: Add a sprinkle of ground pepper to season.