The easiest chicken parmigiana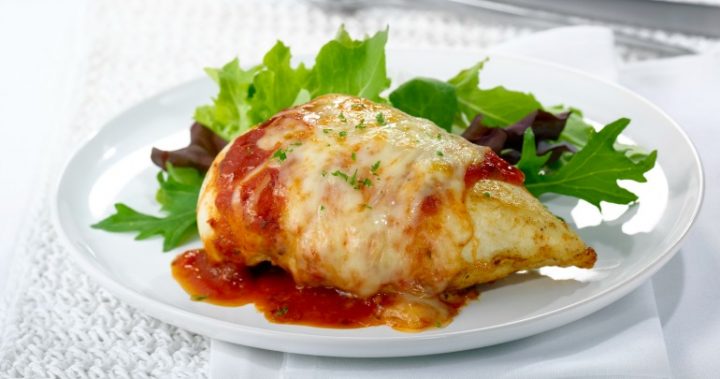 If you're sick of slaving away in the kitchen making dinner or lunch for yourself and any other guests, than try this delicious and easy option. This meal can be made in thirty minutes or less and is just as mouthwateringly cheesy as any other parmigiana recipe.
Keep it in the fridge and reheat it for lunch or dinner later in the week to save yourself even more effort and time!
Ingredients
1 1/2 tablespoons olive oil
6 (700g) chicken breast schnitzels (uncrumbed), halved crossways
1 medium brown onion, chopped
2 garlic cloves, crushed
340g jar fire-roasted pepper strips, drained
230g tub diced antipasto chargrilled eggplant, drained
1 1/2 cups tomato pasta sauce
1/3 cup Fountain Spicy Red sauce
1/4 cup fresh basil leaves, torn
100g mozzarella cheese, thinly sliced
1/3 cup fresh breadcrumbs
Basil leaves, to serve
Method
Preheat oven to 220C or 220C fan-forced. Over medium-high heat heat oil in a large frying pan. In two batches, cook chicken for 2-3 mins each side, until browned. Remove from pan and transfer to plate.
Heat oil in pan. Add onion and garlic. Cook for 2 mins and stir constantly until onion is soft. Stir in peppers and eggplant. Cook for 1 min. Pour in pasta sauce and Spicy Red sauce and bring to boil. Add basil and stir. Add salt and pepper to season.
Prepare a 10 cup-capacity ovenproof dish and cover the base with half the chicken. Cover chicken with half the sauce. Repeat one more layer, finishing with sauce. Generously sprinkle cheese and breadcrumbs on top.
Transfer to oven and bake for 10-15 mins until golden brown. Top with basil and serve hot.