Tasty spinach and artichoke pasta casserole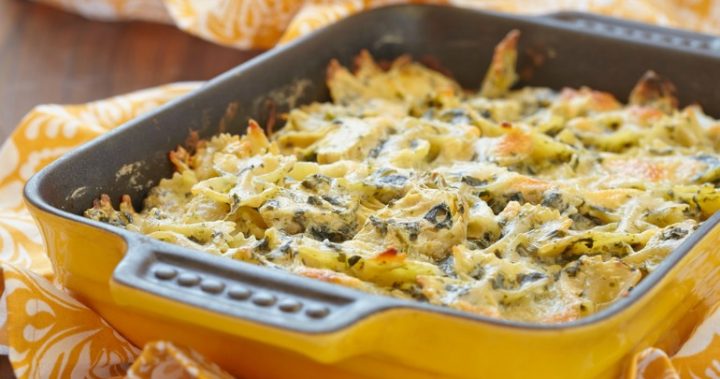 This is a perfect dish for a hearty and filling, yet healthy dinner. It's especially great if you're trying to reduce your meat intake, and it ideal for vegetarians. Or, if you wanted, you could always add some cooked chicken breast to the dish according to your tastes.
Ingredients
1 cup/8 3/4 fl oz small spiral pasta
3 tablespoons olive oil
2 garlic cloves, crushed
3 tablespoons flour
1 cup/8 3/4 fl oz vegetable stock
1/2 cup/4 fl oz grated parmesan cheese
1/2 cup/4 fl oz plain, low-fat yogurt
Salt and freshly ground pepper, to taste
3 tablespoons olive oil, extra
1 onion, sliced
1/8 teaspoon salt
350g/0.7 pounds spinach leaves
1 jar or can quartered artichokes
1/2 cup/4 fl oz grated cheese, for topping
Method
Preheat oven to 175C/345F and lightly spray a medium casserole dish with nonstick cooking spray.
Cook pasta in a pot of boiling salted water until tender, then drain and set aside.
Heat 3 tablespoons of olive oil in a frying pan over medium-high heat. Add garlic and cook for 1 minute, or until fragrant. stir in flour until combined, then whisk in vegetable stock. Continue whisking until mixture boils and thickens, then remove from heat. Stir in parmesan cheese until melted, then whisk in yoghurt and add salt and pepper to taste. Sauce will continue to thicken as it stands.
For the spinach and artichokes, heat the extra oil in a frying pan, then add onions and salt. Cook for 2 minutes or until tender. Add spinach and stir until wilted, then add artichokes, cooking for a further minute. Add pasta and sauce and stir together.
Transfer to casserole dish and sprinkle with cheese, then bake for 20 minutes or until top is golden.