Cheesy mushroom and ricotta quiche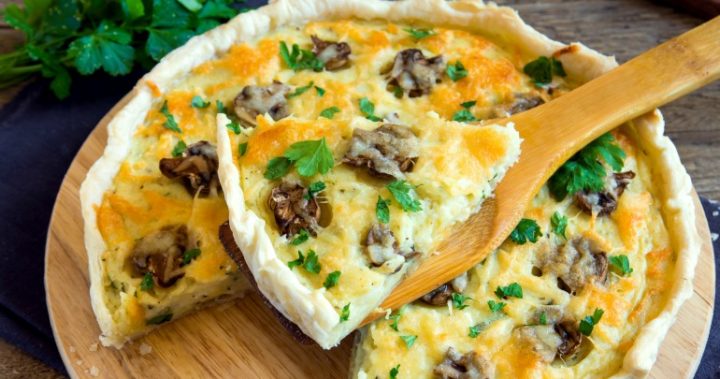 Melt-in-the-mouth pastry, filled with tasty cheese and tender mushrooms, what more could you want?
For a delicious and simple meal, this mushroom and ricotta quiche is a must-try! It's a fantastic vegetarian option and the best part is you can use this recipe with a plenty of other veggies, too. This version uses store-bought pastry, but if you're feeling ambitious you can certainly make your own.
For a light meal, serve with a fresh garden salad topped with an olive oil and lemon juice dressing. Enjoy!
Ingredients
2 sheets frozen shortcut pastry, thawed
1 tbsp olive oil
50g butter
1 onion, finely chopped
2 garlic cloves, chopped
200g button mushrooms, thickly sliced
200g Swiss brown mushrooms, thickly sliced
1/2 cup parsley, finely chopped
2 eggs, plus 1 extra for egg wash
1/3 cup parmesan, grated
1 cup pouring cream
1 cup ricotta
Method
Preheat oven to 200°C and grease pan.
Cut one pastry sheet in half, place halves on either side of remaining sheet and press to join.
Roll joined pastry between two sheets of baking paper until large enough to fit pan.
Press into pan and trim edges. Freeze for 15 minutes.
Meanwhile, heat oil and butter in large frypan over high heat.
Add onion and garlic, and cook, stirring, for three minutes.
Add mushrooms and cook, stirring occasionally, for five minutes. Stir in parsley.
Line pastry shell with baking paper and fill with dried beans or rice. Bake for 12 minutes, then remove paper and beans.
Brush with egg wash and bake for a further five minutes or until dry.
Drain mushrooms, spoon into pastry shell and scatter over parmesan.
Whisk cream and eggs in bowl and season with salt and pepper. Pour cream mixture into pastry shell, then crumble in ricotta.
Place pan on an oven tray and bake for 20 minutes.