Tasty light macaroni and cheese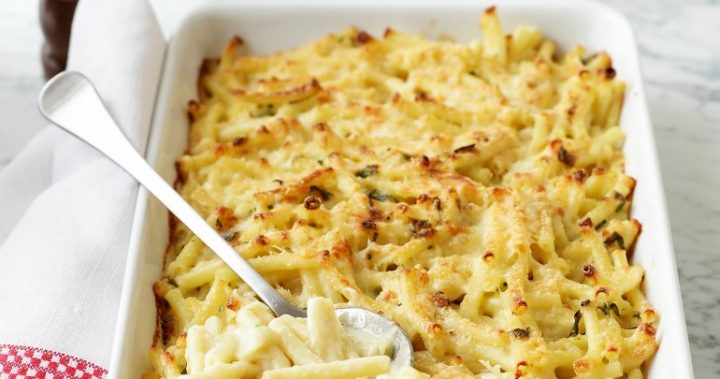 Delicious, cheesy and healthy, this incredible recipe has it all.
While macaroni and cheese is known for its indulgent ingredients there's still a way to enjoy this tasty dish without the guilt.
A twist on a classic, this slightly 'healthier' macaroni and cheese dish works great on its own or paired with a fresh garden salad.
This recipe includes a cheesy sauce, made up of low-fat milk, cheddar cheese and low fat cottage cheese, mixed through macaroni pasta, completed with a layer of spinach.
Great to have on-hand, this fantastic dish can be frozen for up to two months – perfect for those nights you don't feel like cooking.
Ingredients
1 3/4 cup low-fat milk
3 tbsp all-purpose flour
2 cups grated cheddar cheese
1 cup low fat cottage cheese
1/2 tsp salt
1/4 tsp pepper
1/8 tsp ground nutmeg
300g frozen spinach, thawed
225g macaroni
1/4 toasted wheat germ (found in local supermarket)
Method
Spray baking dish with cooking spray.
In small bowl whisk, 1/4 cup of milk and flour until smooth.
In medium saucepan, heat remaining 1 1/2 cup milk over medium heat, while steaming.
Add flour mixture and cook for three minutes (whisk constantly).
Remove from heat, stir in cheddar cheese until melted.
Stir in cottage cheese, salt, pepper and nutmeg.
Cook spinach, according to package directions then drain.
Rinse under cold water, squeeze out excess moisture.
Cook macaroni in large pot of boiling (lightly salted) water for five minutes.
Drain, rinse with cold water, drain again.
In large bowl, stir together cheese sauce and macaroni.
Spread half of macaroni mixture in baking dish, spoon spinach over top.
Spread remaining macaroni mixture over spinach layer, sprinkle with wheat germ.
Bake for 40 minutes or until golden.