Tasty cauliflower cheese muffins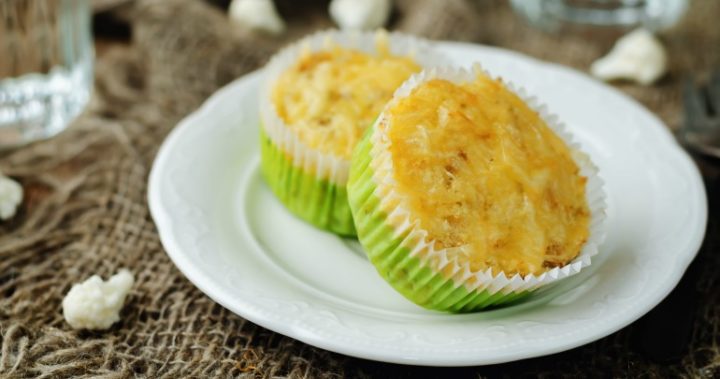 These delicious cauliflower cheese muffins are a family favourite.
Bursting with flavour, these tasty muffins are a perfect side dish or even a delicious snack on-the-go! This tasty recipe includes cauliflower, risoni pasta, cheddar and parmesan cheese, all combining to create a fantastic flavour.
Store any leftovers in an air-tight container in the fridge and warm up in the microwave before serving. Serve with a dollop of sour cream or butter and enjoy!
Ingredients
1/2 cauliflower, cut into large florets
1/2 cup dried risoni pasta
40g butter
1/4 cup plain flour
1 cup milk
1 cup grated cheddar
1/4 cup finely grated parmesan
1/2 cup panko breadcrumbs
Method
Cook cauliflower in large saucepan of boiling water for 5 minutes.
Use a slotted spoon to transfer to a sieve set over bowl. Set aside to drain and cool.
Coarsely chop the cauliflower.
Add the risoni to saucepan and cook for 8 minutes.
Drain and rinse under cold water. Drain well.
Meanwhile, melt butter in saucepan over medium heat and add flour.
Cook, stirring, for 2 minutes.
Gradually add milk, a little at a time, stirring until combined after each addition.
Bring to boil and cook, stirring, for 2 minutes.
Remove from heat and stir in cheeses until melted and smooth. Transfer to large bowl.
Add cauliflower and risoni. Use a spatula to stir until evenly combined. Set aside to cool.
Preheat oven to 200°C.
Spread breadcrumbs over large plate.
Use damp hands to roll a tablespoon of cauliflower mixture into a ball.
Roll in the breadcrumbs to coat.
Repeat with remaining cauliflower mixture and breadcrumbs to make 24 balls.
Add muffin liners to pan and divide the balls among the pans and spray tops with oil.
Bake for 20-25 minutes.