Super-easy beef and potato curry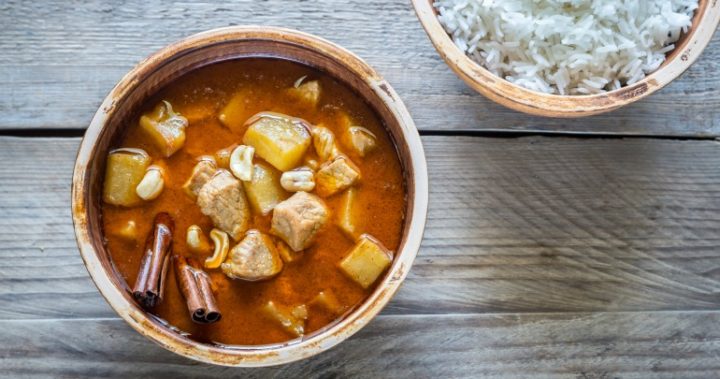 Traditionally known as a Thai massaman curry, this dish is a favourite worldwide. It's super-easy to make up with under ten minutes prep time and full to the brim with delicious aromas and tastes. Pair this up on a bed of rice and serve it for dinner or lunch. You could even try popping it in some containers and freezing it for leftovers.
This hearty dish is great for winter months to warm you and your family up. No matter how you enjoy this dish, you will fall head over heels for the absolutely mouthwatering array of flavours.
Ingredients
2 tbsp vegetable oil
650g gravy beef or chuck steak, trimmed
1 cup coconut cream
2 tbsp massaman curry paste
1 cup coconut milk
1 cup chicken liquid stock
1/2 cup unsalted roasted peanuts
2 medium potatoes, peeled, cut into 3cm pieces
1 cinnamon stick
2 bay leaves
5 cardamom pods, lightly crushed
2 tbsp brown sugar
1 tbsp tamarind concentrate
1 tbsp fish sauce
Steamed jasmine rice, to serve
Method
Place a large saucepan over medium-high heat. Heat oil until hot. Add beef. Cook and stir until cooked and browned. Transfer to plate.
Add 2 tablespoons of coconut cream to hot pan. Cook on medium heat for 20 seconds to heat. Add curry paste. Cook for 1 minute.
Add beef back to pan with juices. Add coconut milk, chicken stock, peanuts, potatoes, cinnamon stick, bay leaves, cardamom pods, sugar, tamarind concentrate, fish sauce and remaining coconut cream. Stir well to combine.
Reduce heat to low. Cover pan and leave to simmer. Stir every so often. Cook for 1 1/2 to 2 hours until beef is completely tender. Serve with rice.