Scrumptious classic cinnamon tea cake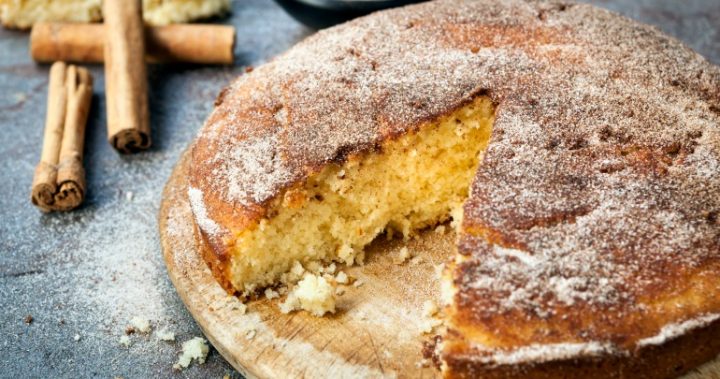 When it comes to delicious tea-time treats, this cinnamon cake is an absolute delight. Sprinkled with sugar and cinnamon, this classic recipe is the perfect partner for your afternoon cuppa with a fluffy centre and irresistible topping. And the best part is it's super easy to whip up!
It's a simple recipe that's great for beginner bakers and promises to be a cinch for more advanced cooks. If you're not much of a baker and aren't sure how to know when it's cooked, insert a skewer into the centre of the cake after about 30 minutes in the oven. If it comes out clean, it's good to serve! This cake is so delicious, it's impossible to only eat one slice. Enjoy!
Ingredients
65g butter, softened
1/2 cup caster sugar
1 tsp vanilla extract
1 egg, room temperature
1 1/2 cups self-raising flour, sifted
3/4 cup milk
Topping
3 tsp butter, melted
1/2 tsp ground cinnamon
3 tsp caster sugar
Method
Preheat oven to 180°C.
Grease and line a 6.5cm deep, 20cm (base) round cake pan with baking paper.
Using electric mixer, cream butter, sugar and vanilla until pale and creamy.
Add egg, beat well. Transfer mixture to a large bowl.
Using large metal spoon, fold flour and milk into butter mixture until just combined.
Spread mixture into prepared pan. Smooth surface.
Bake for 30 to 35 minutes. Stand in pan for 10 minutes.
Brush top with melted butter. Combine cinnamon and caster sugar and sprinkle over cake.