Quick and healthy sweet potato bake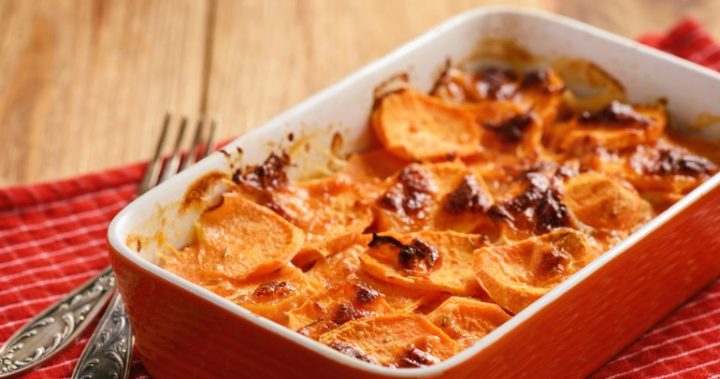 If you are ever craving comfort foods but prefer a healthier option, then this is the perfect dish for you! By replacing the usual starchy potatoes and heavy cream with sweet potatoes and coconut milk, you can now enjoy potato bake without feeling guilty.
This recipe is perfect if you are looking for a healthier and lighter dinner or lunch option during the week. Plus, it involves minimal cooking time and will serve a big crowd without a huge amount of effort!
Ingredients
2 tbs olive or macadamia oil
3 lean rashers bacon, roughly chopped
600g sweet potato, very thinly sliced
1 cup (240g) ricotta
1 cup (250ml) coconut milk
1 tsp ground nutmeg
Method
Preheat oven to 200C. Lightly grease an ovenproof dish of 8-cup capacity. In a large frypan, heat oil over medium heat. Add bacon, stir occasionally until brown. Take pan off heat.
Add sweet potato slices to frypan in batches. Cook for 2 mins on either side. Transfer bacon and potato to prepared dish.
Add ricotta, coconut milk and nutmeg in bowl. Whisk until smooth. Season with salt then drizzle over sweet potato mixture.
Place tray in oven and bake until lightly golden for 20-25 mins. Serve hot.