Delicious and super-easy Quiche Lorraine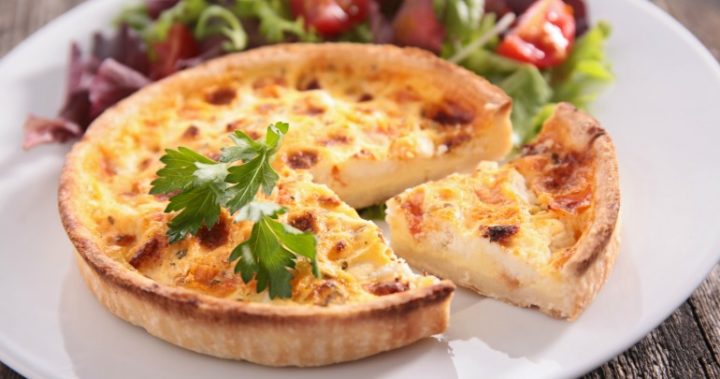 It can be tricky to please everyone at dinner time, but when a traditional favourite such as quiche comes out, it's unlikely anyone will complain.
This simple Quiche Lorraine is so quick to prepare, with only seven ingredients and a few easy steps to complete. It can easily be made ahead of time to make a bigger dinner party less stressful, or prepared for lunches throughout the week.
Ingredients
Flour, for dusting
500g shortcrust pastry
200g bacon, chopped
85g cheddar, cut into small cubes
3 eggs, lightly beaten
285ml double cream
Pinch grated nutmeg
Method
Make sure pastry is at room temperature. Using a rolling pin lightly dusted in flour, roll the pastry to around 1cm thick and place into tin with the floured side facing up.
Gently ease the pastry into the tin, smoothing over the base to remove any pockets of air. Cut away excess pastry overhanging the tin. Cover with cling wrap and place in a refrigerator for 30 minutes.
Heat oven to 200C/fan 180C. With a large piece of baking paper, scrunch into a ball, open out and line chilled pastry case. Fill with baking beans and cook for 15 to 20 minutes. Remove from oven and lift beans out. Cook for a further five minutes.
Lower oven temperature to 150C/fan 130C. Heat frying pan and cook bacon until crispy. Place in pastry case along with cheese. Set aside and mix together eggs, cream and nutmeg and place on top of bacon and cheese in pastry case. Return to oven and cook for 30 to 35 minutes.