No fuss spaghetti bolognese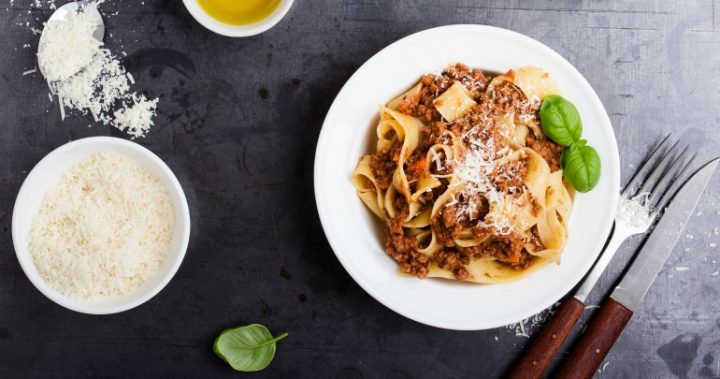 Spaghetti bolognese is a hit with everyone, but it can often be a mess to cook. This smart recipe option combines all the ingredients in one pan, which stops any unnecessary dirty dishes and leaves a much smaller workload in the kitchen afterwards.
The trick of cooking everything together ensures the pasta to sauce ratio is always perfect and even speeds up the cooking process.
This is a great, no fuss weeknight meal for everyone to enjoy!
Ingredients
1 tablespoon extra virgin olive oil
500g pork and veal mince
2 tablespoons tomato paste
125ml (1/2 cup) red wine
400g jar Bolognese pasta sauce
2 large sprigs fresh rosemary
500ml (2 cups) chicken stock
375g pkt fresh fettuccine
250ml (1 cup) water
Chopped fresh continental parsley, to serve
Grated parmesan, to serve
Method
In a large, deep frying pan, heat oil over high heat. Add mince and cook for 4 mins until changes colour, make sure to break up with a wooden spoon. Season with salt.
Pour in tomato paste and cook for 1 min while stirring constantly. Add wine and let simmer for 1-2 mins until nearly evaporated. Mix in pasta sauce and rosemary. Leave to simmer for about 5 mins until amount is slightly reduced.
Add stock and stir. Add pasta and pour the water over. Cover and let simmer for 2 mins. Remove cover and continue to simmer for 2-3 mins or until pasta is cooked, stirring occasionally. Season with pepper. Top with parsley and parmesan and serve hot.