Leftover mashed potato, cheese and bacon croquettes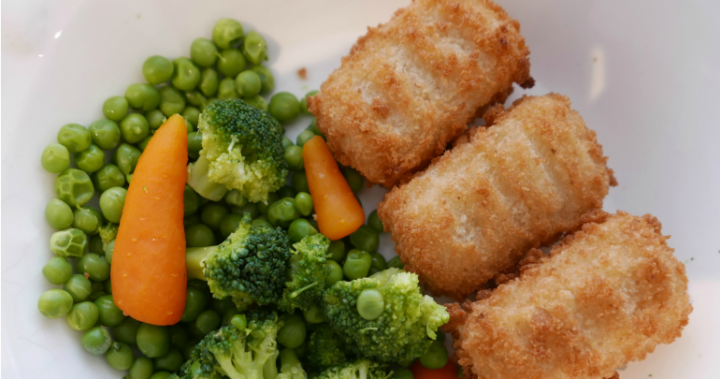 A delicious savoury snack the whole family with enjoy — crispy, crunchy and cheesy what more could you want?
Bursting with flavour, these delicious croquettes are made with potato, broccoli, bacon and cheddar cheese.
This tasty recipe works great as a snack or paired with veggies for a light meal. Easy to whip up, this recipe is also a great way to use up any leftover mash.
Ingredients
600g potatoes, peeled, chopped
350g, broccoli, chopped into small florets
4 rindless bacon rashers, finely chopped
4 green shallots, trimmed, thinly sliced
60g cheddar, grated
1 egg yolk
1 1/2 cups plain flour
2 eggs
2 1/2 cups fresh breadcrumbs
Vegetable oil, to deep-fry
Method
Cook potatoes in saucepan of boiling water for 12-15 minutes. Drain well.
Use potato masher to mash until smooth. Transfer to large bowl.
Meanwhile, cook broccoli in saucepan of boiling water for five minutes.
Drain and set aside. Once cool, finely chop.
Heat non-stick frypan over medium heat. Cooking bacon for three minutes.
Add shallot and cook for further three minutes. Drain on paper towel.
Add broccoli, bacon mixture, egg yolk and 1/4 cup flour to the potato. Season and mix to combine.
Roll heaped tablespoons into croquette shapes and place on lined baking tray.
Whisk eggs in shallow bowl.
Place breadcrumbs and remaining flour (1 1/4 cups) on seperate plates.
Dip each croquette in flour, then in egg and roll in breadcrumbs.
Return crumbled croquettes to lined tray, cover and place in fridge for 15 minutes.
Pour enough oil into saucepan to reach a 5cm depth and heat over medium-high heat.
Cook croquettes, in batches, for three minutes. Drain on paper towel.