Jamie Oliver's tip for the perfect Christmas roast potatoes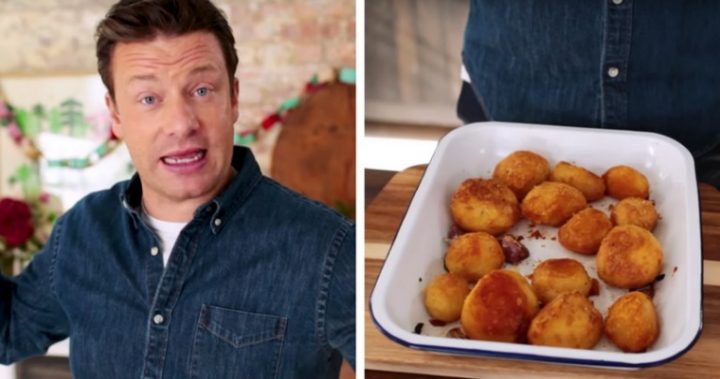 Christmas is nearly here, which means many people around the country will be busily preparing in the kitchen for the big day.
If you've got a house full of guests and you're not quite sure how you're going to plate up delicious roast potatoes that aren't going to go soggy, Jamie Oliver has got you covered.
The famous TV chef has taken to his YouTube channel to reveal his top hacks for the perfect roast potatoes.
"It's that time of year, it's Christmas and that means it's not only the best time of year, but very possibly, the most stressful time of year," Oliver explains.
Read more: The trick to peeling potatoes using just water
Ad. Article continues below.
"let me give you a tip, a hack, that absolutely rocks the world."
After you've parboiled the potatoes and roasted with some butter and olive oil, the 42-year-old suggests that you slightly mash the top of the potatoes.
In his clip, the star can be seen using a potato masher to gently push down on the potatoes.
He suggests that by doing this, you're creating a greater surface area for the crispiness of the potatoes and allowing the insides to puff out.
Ad. Article continues below.
"Once you've done this, you'll never, ever, ever look back," he promises.
The father-of-five can then be seen adding sage to the top of his spuds before placing in the oven for an additional 10 minutes.
Read more: The stress-free way to cook sweet potatoes in under 10 minutes
He also claims that spraying a tiny amount of vinegar to the potatoes when they've finished cooking gives them some added flavour.
"Get down to the chemist, buy one of those empty little spritzers and basically put vinegar in there," he suggests.
Ad. Article continues below.
"And as the potatoes come out, you give them a little spritz and it immediately evaporates and puts a kind of tang on your roast potatoes like you can't believe."
Fans were quick to praise Oliver for his tips. 
One person wrote: "The roast potatoes tip is pure genius. Always works. Crispy outside and soft fluffy inside. Yum."
A second comment read: "Jamie's potatoes are goals."
A further message added: "Jamie, you pretty much are my Christmas cooking, thank you so much."
What do you think? What's your tip for perfect Christmas potatoes?