Healthier tomato and cheese bake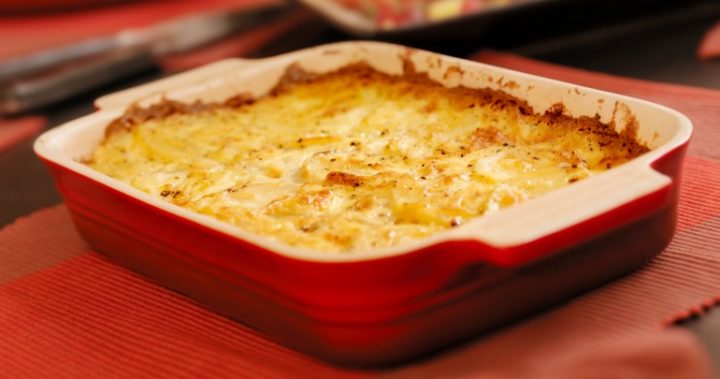 While this bake is still quite cheesy and comforting, it is a lot better for you than other potato or pasta bakes. This recipe replaces those heavy, rich flavours with a light tomato and lentil sauce to use as the filling. While it is still as flavoursome and creamy as the original, this one is a bit lighter on your stomach and won't leave you feeling guilty if you head back for seconds. Not only is it super tasty but it's extremely easy to whip up and serves a big crowd so if you are looking for a simple and filling meal than give this one a red hot go!
Ingredients
400g can lentils, drained, rinsed
525g jar tomato and garlic bolognese pasta sauce
1 green onion, thinly sliced
2 tablespoons chopped fresh flat-leaf parsley leaves
1kg potatoes, peeled, very thinly sliced
1 1/2 cups grated tasty cheese
1/4 cup finely grated parmesan
Method
Preheat oven to 180C. Grease a 5cm-deep, 20cm x 26cm oven-proof dish. In a large bowl, add lentils pasta sauce, onion and parsley. Season with salt and pepper. Stir to combine.
Take 1/6 of the sliced potatoes and layer the bottom of the dish. Spoon 1/5 of the lentil mixture to cover the base. Repeat the layers until you finish with the final layer of potato. Sprinkle cheese generously over the top. Cover the bake with baking paper then tightly secures foil to encase the heat during cooking.
Remove from oven. Gently take off cover. Place it back into the oven and bake for another 20 to 25 minutes until golden. Stand for 10 minutes to cool. Serve hot.