Easy vegetable and bacon slice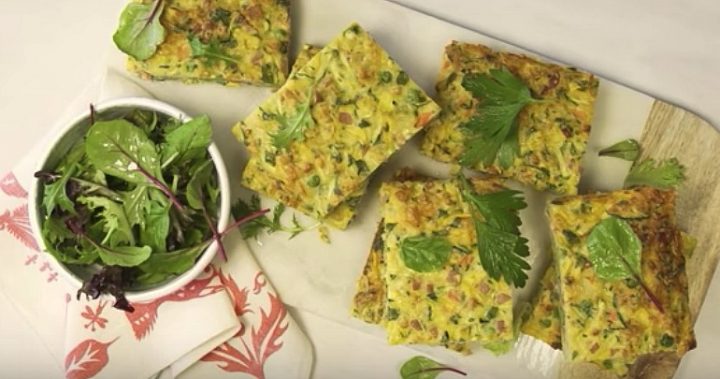 This yummy vegetable and bacon slice is super easy to make and not too bad on the health front either! As an added bonus it only takes about 10 minutes to make and will last you for days. This recipe uses fresh zucchini, finely grated carrot, spicy nutmeg and bacon to make a light dinner option that will have you going back for seconds.
It's the perfect meal to whip up on a hot summer's day when you don't feel like anything too heavy and works great on its own or with a fresh garden salad. It's also a great 'throw it all in' recipe so feel free to add any extras you have on hand. Try adding mushrooms, capsicums, or olives!
Ingredients
6 eggs
1 large zucchini grated
1 carrot grated
1/2 onion finely diced
1/2 cup grated cheese
300g thinly sliced bacon
Pinch of nutmeg
Pinch of baking powder
Salt and pepper to taste
Method
Preheat oven to 180°C.
Grease and line a slice pan.
Beat eggs in large bowl until combined.
Add in the nutmeg, salt, pepper, baking powder, cheese, onion, bacon, carrot and zucchini.
Stir until combined.
Pour into prepared pan and bake in oven for 25 minutes.
Once cooked cut up into square portions to serve.
Serve with a side salad and store the rest in the fridge in an airtight container.