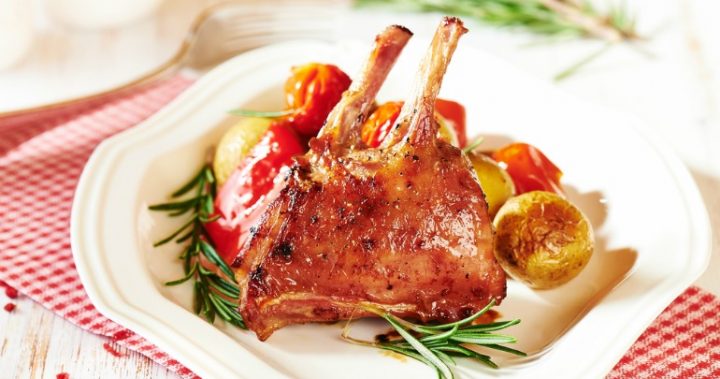 Nothing tops lamb roast when it comes to family favourites for dinner but it can be time-consuming for the cook. This special recipe makes the traditional dish in half the time then usual! It's perfect for when you're in a rush or when you just don't feel like spending hours in the kitchen.
Pair it with the delicious side of lentils, potatoes and your choice of veggies for a quick crowd pleaser that won't have you slaving over a hot oven all night.
Ingredients
800g packet roast potatoes (rosemary and garlic)

2 tablespoons olive oil

1 brown onion, finely chopped

2 garlic cloves, finely chopped

1 dried bay leaf

1 1/4 cups green French style lentils, rinsed, drained

8 cutlet lamb rack (750g)

2 tablespoons finely chopped flat-leaf parsley

100g fresh goat's cheese in oil
Method
Preheat oven to 220c or 200C fan-forced with a large baking tray inside.
In a large saucepan over medium heat, put 1 1/2 tablespoons of oil and heat. Add onion, garlic and bay leaf and cook until softened for about 3 mins. Add lentils and 2 1/2 cups of water and bring to boil on high heat. Reduce to medium heat continue to boil for 20 mins. Uncover and cook until lentils are tender and there is less liquid for about 10-15 mins. Season well.
Season lamb rack. Place potatoes and lamb on a hot the preheated tray with the fat side down. Roast for 20-25mins and turn lamb half way through. Transfer to plate and loosely cover with foil. Roast potatoes until crispy for another 10-15 mins.

Mix parsley into lentils and dot with goat's cheese. Serve lamb carved with a side of lentils and potatoes.