Deliciously thick bread-and-tomato soup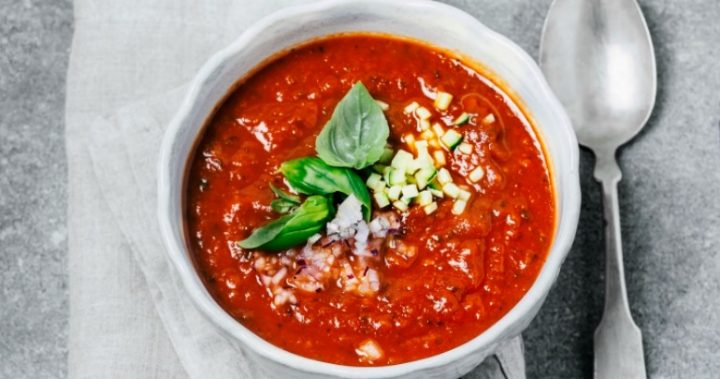 This soup is perfect for when you are feeling under the weather as the hint of chilli helps to clear out and open up your sinus. It is also an easy and delicious dinner option if you are stuck for ideas to cook your family and friends or just for yourself.
Nothing beats the vinegar-soaked bread that thickens the soup and adds a fresh flavour to the old recipe. Tomato soup provides you with your necessary vitamins and helps support your metabolism. So try this option for a quick, easy and healthy option for lunch or dinner throughout the week.
Ingredients
800g canned whole tomatoes
1 long red chilli, seeds removed, chopped
4 garlic cloves, finely chopped
1 teaspoon caster sugar
2 tablespoons extra virgin olive oil
2 slices day-old sourdough bread, crusts removed, cubed
2 tablespoons balsamic vinegar
2 tablespoons chopped basil, plus extra small leaves to serve
Method
In a saucepan combine tomatoes, chilli, garlic, sugar, 1 tablespoon oil, 1 cup (250ml) water and some salt and pepper. Bring to boil on medium-high heat. When at boil, reduce heat to low and cover. Let simmer for 15 mins until the tomatoes are tender and breaking down slightly.
Place bread in bowl and pour vinegar over the top. Allow to soften for 10 mins.
Combine bread mixture and basil to soup. Stir to combine. Cover on low heat. Let simmer for 5 mins for soup to thicken.
Blend the soup with a stick blender to smooth. You can also allow to cool then puree in a blender then reheat on medium heat.
Transfer to serving bowl. Drizzle oil and add basil leaves for garnish.