Deliciously sweet apple crumble cheesecake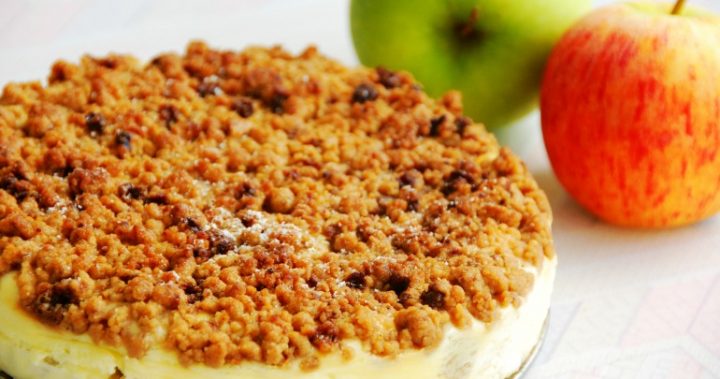 If you're the kind of person who is always looking for a new spin on a tasty dessert, this recipe brings two classic favourites together.
Apple crumble cheesecake is a delicious yet simple dessert that won't last long in your fridge.
If you've got some vanilla ice cream or whipped cream, it makes it a truly special treat.
Ingredients
4 chopped apples
300g brown sugar
1 tbsp cinnamon
80g sultanas
12 digestive biscuits
150g melted butter
1 tsp salt
100g plain flour
2 packets Philadelphia cheese
1 packet mascarpone
2 eggs
1 vanilla pod
50g oats
Method
Preheat oven to 180°C.
Mix apples, 100g sugar, cinnamon and sultanas and cook for 25 mins. Turn oven down to 160°C when done.
Add biscuits, butter and salt to food processor. Mix until combined. Pour in a bowl.
Add 100g sugar, flour, butter and oats to food processor. Mix until ingredients come together in thick texture.
Put the cheese, mascarpone, 100g sugar, eggs, vanilla pod to food processor and blend until smooth.
In a lined tray, mash biscuit base down until flat.
Pour cheesecake filling on top and smooth over.
Add apples to the top and bake for 1 hour.
Allow to cool and place in fridge before serving.
For an extra fruit flavour, feel free to sprinkle your favourite berries to the top of your cheesecake!