Delicious teriyaki salmon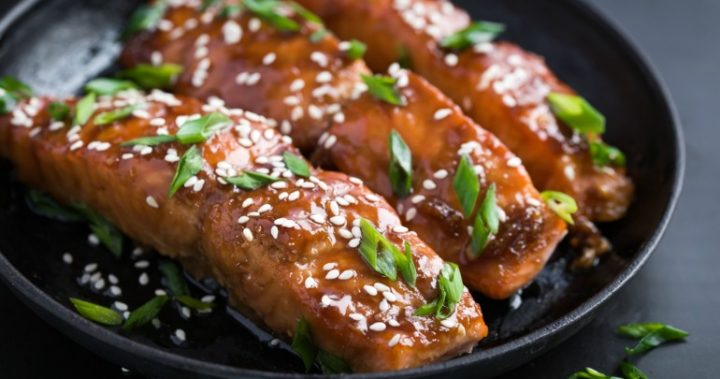 This delicious meal looks as good as it tastes. The tender grilled salmon coated in a delicious teriyaki marinade is a dish that will be a winner with anyone who tries it. Not only is this meal super tasty, but it take just 10 mins to cook once the marinade has set in.
This healthy dinner option can be served up with a plate of rice and veggies or anything else that you feel like pairing it with. Enjoy!
Ingredients
55g (1/4 cup) caster sugar

60ml (1/4 cup) soy sauce

60ml (1/4 cup) mirin seasoning

4 (about 250g each) skinless salmon fillets, halved lengthways

2 shallots, green section only, ends trimmed, thinly sliced lengthways

Peanut oil, to grease

2 tablespoons sesame seeds
Method
In a medium bowl, mix sugar, soy sauce and mirin seasoning. Stir until sugar has dissolved. Place salmon in mixture and coat both sides. Cover and leave to marinate in fridge for 30 mins.
Place shallots into an airtight container of iced water. Place in fridge for 30 mins.
Preheat grill to high. Line baking tray with foil and brush with oil to grease. Drain salmon and keep marinade. Place salmon on tray and place under grill. Cook and brush with marinade occasionally for 5 mins.
Drain shallots. Transfer salmon to serving platter and top with shallots and sesame seeds. Serve.