Delicious chicken and vegetable family pie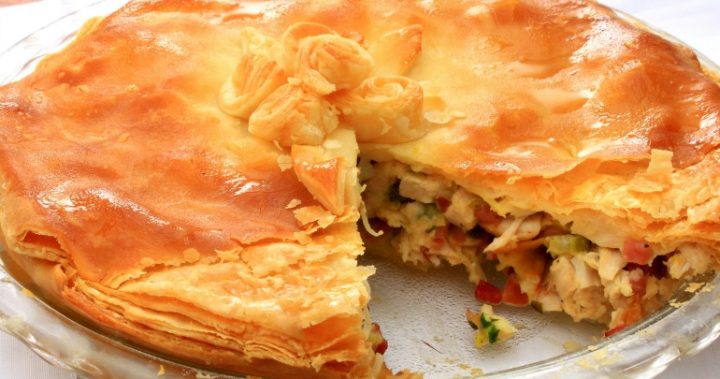 Nothing beats a traditional chicken pie, and if you're after a hearty meal the whole family will love, this is the recipe for you.
Full of flavour, the recipe uses a delicious mixture of corn, onion, capsicum, celery, carrot, peas, roasted chicken and creamy carbonara sauce, layered with crispy melt-in-the-mouth filo pastry.
The best part is, you can substitute veggies to your liking. Thr recipe works great with a garden salad with simple olive oil and lemon dressing.
Ingredients
1 corn cub, husks and silks removed.
2 tsp olive oil
1 brown onion, finely chopped
1 red capsicum, seeded, finely chopped
2 celery sticks, finely chopped
1 carrot, peeled, finely chopped
490g jar carbonara pasta sauce
Roast chicken, coarsely shredded
1 cup frozen peas
10 sheets filo pastry
50g butter, melted
Method
Preheat oven to 200°C.
Use sharp knife to cut down the length of corn cob to remove kernels. Discard the cob.
Heat oil in large frying pan over medium heat.
Cook onion, stirring, for two minutes or until onions soft.
Add corn kernels, capsicum, celery and carrot.
Cook, stirring, for three minutes.
Add carbonara sauce, chicken and peas, and stir to combine.
Meanwhile, place filo sheet on prepared tray, and brush with a little butter.
Top with second filo sheet and brush with butter. Repeat with three more filo sheets.
Transfer chicken mixture over filo sheets.
Cover chicken mix with five filo sheets, butter between each layer.
Brush with butter, then bake for 25 minutes or until golden.