Delicious cauliflower fritters with parmesan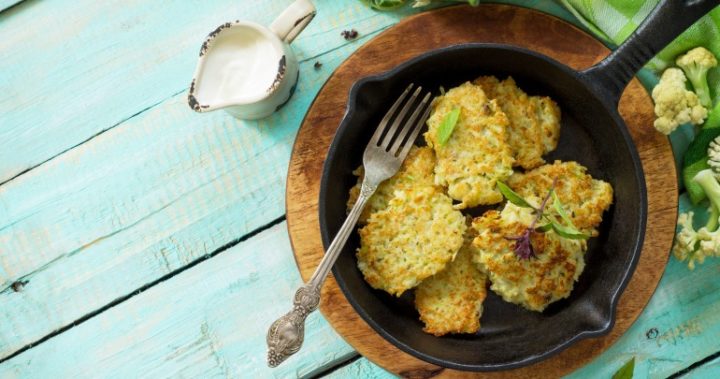 Let's face it, cauliflower isn't the most exciting of vegetables, but this simple recipe is a great way to take the humble veggie from bland to tasty.
Filled with parsley, chives and coriander, these fritters pack a punch on the flavour front with plenty of herbs and sharp parmesan tantalising the tastebuds.
If you're not a coriander fan, don't fret — you can substitute with whatever dried herb you like (try cumin) or leave it out all together. The best part is you can make this recipe with a plenty of other veggies, too. Sprinkle with parmesan cheese and enjoy!
Ingredients
1 cauliflower, cut into small florets
2 eggs, lightly beaten
2 tbsp finely chopped parsley
2 tbsp finely chopped chives
1/4 cup plain flour
1/2 tsp baking powder
1/2 tsp ground coriander
1/4 cup olive oil
Finely grated parmesan, to serve
Method
Cook cauliflower florets in pan of boiling salted water for eight minutes.
Drain, cool under running water, then drain again. Pat dry on paper towel.
Place half florets in bowl and mash with fork.
Whisk in eggs, herbs, flour, baking powder and ground coriander.
Stir in remaining florets and season with salt and pepper.
Heat one tablespoon of oil in large frypan over medium-high heat.
Cook rounded tablespoons of the cauliflower mixture in batches for one to two minutes (adding remaining oil as necessary).
Drain on paper towel and sprinkle with parmesan.