Delicious and hearty gluten-free lasagne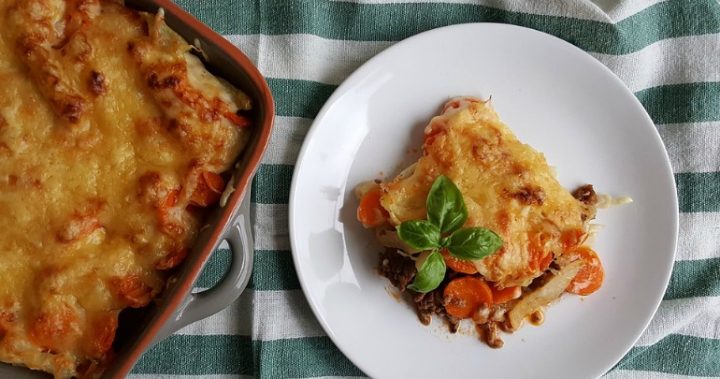 Finding a recipe to suit the whole family can be a difficult task, especially when some of your guests have a gluten allergy.
But this smooth and hearty lasagne is bound to impress everyone round the table, packed full of fresh vegetables, juicy mince and delicious melted cheese.
In just a few simple steps, you can create a masterpiece, whether it's for a last minute dinner party, or just a smaller meal at home. There's no reason anyone should miss out, and with healthy ingredients throughout, it's a guilt-free way to fill up on all your favourites.
So go on, enjoy!
Ingredients
2 cups tomato passata
2 tsp olive oil
500g lamb mince
1 medium onion, finely chopped
1 cup chopped vegetables of your choice (careful to check label to ensure gluten-free)
2 crushed garlic cloves
1 tsp finely chopped rosemary leaves
2 tbsp tomato paste
(optional) – 400g butternut pumpkin, peeled, seeded and cut into small cubes
1/3 cup gluten-free cornflour
3 cups milk
180g grated cheddar cheese
Gluten-free lasagne sheets (1 and a half x 200g packets)
Method
Blend vegetables and passata together in a blender or food processor until smooth.
Heat oil in medium saucepan and add onion, garlic and rosemary over medium heat until onion softened.
Add mince and stir until browned, for around 10 minutes.
Add tomato paste and stir in.
Pour in vegetable mixture and bring to boil, before leaving to simmer for 15 minutes.
If you're adding pumpkin, place on microwave-safe plate with drops of water. Cover with wrap and microwave for 3-4 minutes until tender.
Add 1/4 cup milk to cornflour in a saucepan and stir until smooth.
Gradually add remaining milk, stirring to smooth, before cooking over medium heat for around 10 minutes until thickened.
Add 1 cup cheese and stir until smooth.
Meanwhile, preheat oven to 200°C (or 180°C for fan ovens).
Grease baking tray (measuring approx. 7cm-deep, 20cm x 30cm base).
Lay out 1/3 lasagne sheets over base, and top with half mince, half pumpkin (if using), and 1/3 cup cheese sauce.
Repeat for a second time, and top with remaining lasagne sheets.
Pour rest of cheese sauce, covering whole tray, and sprinkle remaining cheese on top.
Bake for 40 minutes or until fully heated and tender.
This dish is perfect served with a side salad – ensuring all the ingredients are gluten-free.