Crunchy garlic potato wedges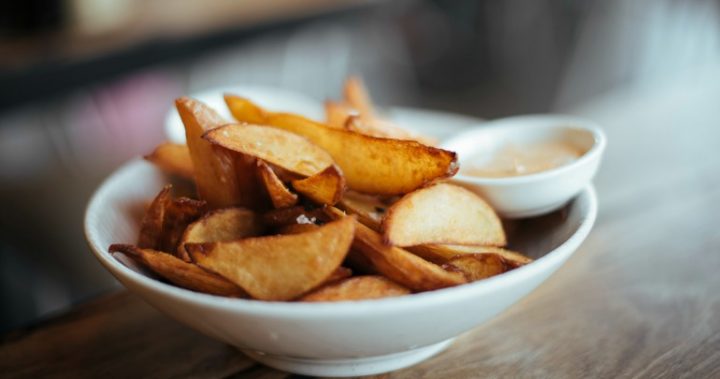 Wedges are a popular menu option for a reason! They are delicious and filling; perfect when paired with sour cream and sweet chili sauce.
If you're looking for an ideal starter, snack, or side dish, these crunchy, garlic potato wedges are the ticket.
Seasoned with salt, paprika, minced garlic and fresh parsley they are full of flavour and simple to make. Perfect for dinner parties and grandkid visits, serve them up with your favourite sauce, dips, and dressings and watch everyone dig in.
Be warned, these crunchy wedges won't last long!
Ingredients
6 large russet (or brushed) potatoes, rinsed
1/4 cup olive oil
1 tbsp minced garlic (or 3 tsp garlic powder)
3 tsp salt
1 tsp paprika
2/3 cup finely grated or shredded parmesan cheese, divided
2 tbsp fresh chopped parsley
Method
Preheat oven to 200°C (390°F).
Line two large baking trays with baking paper and place to the side.
Cut each potato in eighths lengthways, try to make each one the same size.
Mix the oil, garlic, salt and paprika in a medium bowl until combined.
Place the potatoes to the oil mixture and coat them evenly with a spoon or your hands.
Place the wedges evenly across both the baking trays.
Sprinkle with half of the parmesan cheese and add a pinch of salt.
Bake in the oven for 35 minutes, making sure you turn the wedges half-way through.
They should be crispy and golden brown before you remove them from the oven.
Remove them from the oven when done and spinkle with the remaining parmesan, the salt and the parsley.
Serve with you favourite dips and sauces.