Cheesy cauliflower lasagne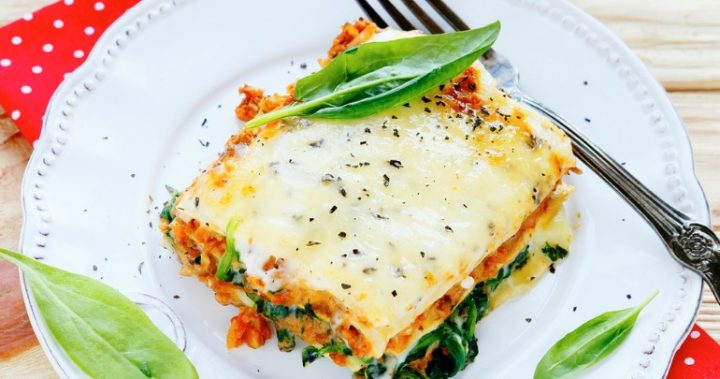 If you're getting tired of making the same dishes over and over then this cauliflower lasagne is perfect for a fresh take on a classic meal. It's a healthier option for you and your family that will become an instant crowd pleaser. If you're looking for a vegetarian option then feel free to remove the ham or replace with different vegetables.
Ingredients
1kg cauliflower, cut into 1cm-thick slices

2 tablespoons extra virgin olive oil

1 tablespoon fresh thyme leaves

25g butter, chopped

1/4 cup plain flour

3 cups milk

1 1/2 cups grated cheddar

8 dried lasagne sheets

300g shaved ham

1/2 cup finely grated parmesan

1/4 cup coarse fresh breadcrumbs

2 tablespoons chopped fresh flat-leaf parsley leaves
Method
Preheat oven to 200C or 180C fan forced. Line two large trays with baking paper.
Place cut cauliflower onto trays and drizzle with oil. Season and sprinkle with thyme. Bake until tender for about 25 mins.
Melt butter over medium heat. Add flour and stir for one minute. Gradually add milk. Stir until mixed and bring to boil. Reduce heat and sir constantly until thick for about 5 mins. Remove from heat. Add cheese and seasoning and stir in well.
In a 6cm-deep, 15cm x 22cm (base), 20cm x 27cm (top) ovenproof dish, spread 1/2 cup of sauce over base. Place one layer of lasagne sheets to completely cover the sauce. Add a 1/3 of the cauliflower and ham on top and drizzle with 2/3 cup sauce. Layer the ingredients two more times and top with a layer of sauce.
Mix together parmesan and breadcrumbs in a small bowl. Sprinkle over the top layer of sauce. Bake for 40 mins covered. Bake for another 20 to 25 mins uncovered until top is golden and tender. Cool for 15 mins and serve topped with parsley.