Cheesy and nutritious mac'n'cheese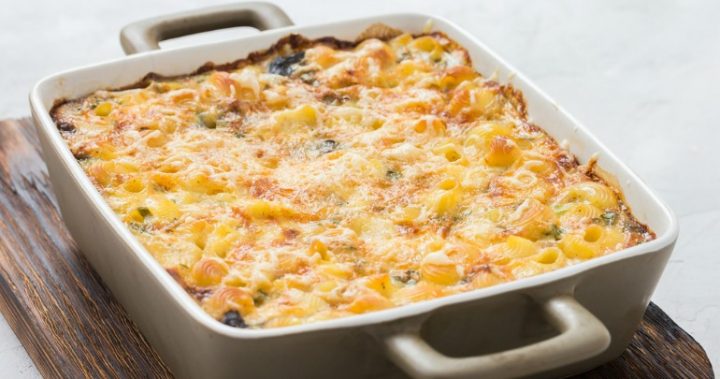 It doesn't take much to turn your guilty pleasure into a healthier and more nutritious meal. This recipe takes the popular cheesy dish and sneaks in a few vegetables that even the fussiest of eaters won't realise.
It simply replaces the heavy use of cream in the original mac n' cheese recipe with a deliciously smooth butternut pumpkin puree and the bonus addition of leek and peas. This dish is a perfect mix of both healthy and delicious and caters to the whole family, making dinners a lot easier.
Ingredients
150g butternut pumpkin, cut into chunks
300g penne
40g butter
1 small leek, finely sliced
25g flour
600ml milk
100g frozen peas
175g grated cheese
1 slice day-old brown bread, blitzed into crumbs
Method
Preheat oven to 200C or 180C fan forced. Put pumpkin in steamer over boiling water and leave for around 15-20mins or until tender. Drain water and put into food processor until pumpkin is a smooth consistency.
Cook penne by following the instructions on the packet.
Meanwhile, in a medium saucepan, heat the butter, add the leek and cook for 2 mins. Add flour and cook for another 1-2 mins while stirring. Take pan off heat and whisk in the milk slowly. Bring pan to heat again and continue stirring to boil then let simmer for 5 mins.
Add peas and stir, then bring back to simmer. Remove from heat and stir in pumpkin and only 125g of cheese.
Mix pasta into the sauce then place into an ovenproof dish. Top with remaining cheese and breadcrumbs and bake for 20 mins or until the surface is golden and bubbling.