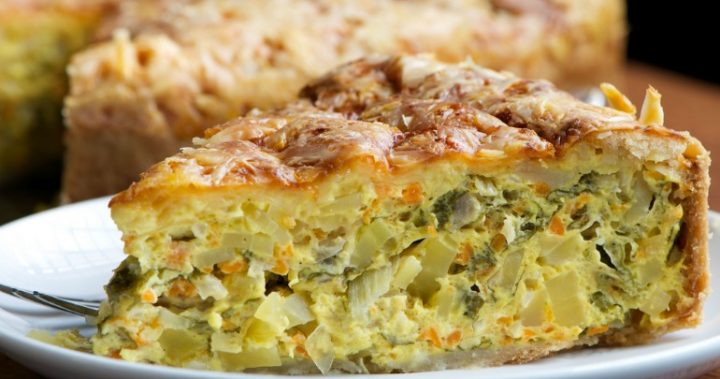 After all the food we chow down on Christmas day many of us are looking for a nice big hit a veggies to even things out a little. This lovely tart is just the thing and is packed full of flavour with a nice hit of cheese for good measure. The shortcrust pastry is store-bought so you don't need to worry about messing around with that and can whip the whole dish together in hardly any time at all. Serve it up with a light and fresh salad and enjoy hot or cold!
Ingredients
1 shortcrust pastry
1 tablespoon olive oil
2 shallots, diced
3 leeks, thinly sliced (white and light green part only)
1 small cooked potato, pealed, diced
1 green pepper, diced, seeded if prefer more mild flavour
2 tablespoons plain flour
½ teaspoon salt
½ teaspoon baking powder
4 eggs
1 1/2 cups grated cheese (gruyere or cheddar)
Method
1. Preheat the oven to 180C. Press the crust into a 9-inch pie tin and pierce the bottom with holes with a fork. Bake crust for 7 minutes, then remove from oven.
Ad. Article continues below.
2. Boil potato or cook in microwave for 10 minutes, until soft enough to be pierced by a fork. Dice leeks and shallots. Add oil to frying pan over medium heat. When oil is hot add shallots, leeks, and pepper to pan. Saute for 2-3 minutes. Add in diced potatoes and cook one more minute.
3. Combine the flour, baking powder, and salt in a small bowl. In a large bowl beat the eggs until fluffy. Add grated cheese, veggies, and flour mixture to eggs. Stir to combine.
4. Pour the mixture into the crust. Bake the quiche for 40-45 minutes.
—————————————————–
If you'd like to see more recipes from Starts at 60, click here. And if you have a recipe you'd like to share with the Starts at 60 community – we'd love to share it! Submit them to us by completing the form below.
Submit your article here