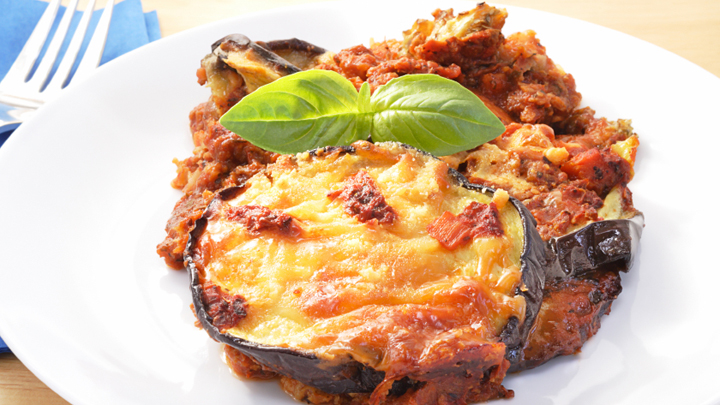 This is a crowd-pleasing dish you'll want to serve again and again. The baked eggplant parmigiana is great served with pasta shells or can be frozen to enjoy later.
Will you try this recipe?
Ingredients
Serves 8
1 medium brown onion (150g), chopped finely
2 trimmed celery sticks (150g), chopped finely
2 tablespoons brandy
2 tablespoons finely chopped fresh flat-leaf parsley
3 cups tomato paste (750g)
2 litres water (8 cups)
1 teaspoon sugar
Olive oil, for shallow-trying
2 large eggplants (1kg), sliced thickly
3/4 cup packaged breadcrumbs (75g)
1/2 cup grated cheese (40g)
1 kg shell or any short pasta
Ad. Article continues below.
Method
Heat large heavy-base saucepan; cook onion and celery, stirring, until onion is soft. Add brandy and parsley; cook until most of the brandy evaporates. Stir in paste, water and sugar; simmer, uncovered, about 1 1/4 hours or until sauce thickens slightly.
Meanwhile, heat oil in large frying pan; shallow-fry eggplant, in batches, until browned both sides. Drain on absorbent paper.
Preheat oven to moderate. Place one-third of the eggplant, in a single layer, in shallow 3-litre (12-cup) ovenproof dish; pour one-third of the tomato sauce over eggplant, sprinkle with half of the breadcrumbs and half of the cheese. Repeat layering process, finishing with eggplant and tomato sauce.
Bake eggplant parmigiana, uncovered, in moderate oven about 40 minutes or until almost set. (It can be frozen as is, or in portions)
Just before serving, cook pasta in large pan of boiling water, uncovered, until just tender; drain. Serve eggplant parmigiana over pasta.
Tip: eggplant can be sprayed lightly with cooking-oil spray and browned under a grill for a lower-fat version. Though to be warned, browning it in olive oil is what makes the dish so rich and flavoursome.
Tell us, do you like to cook with eggplant? Will you try this recipe?