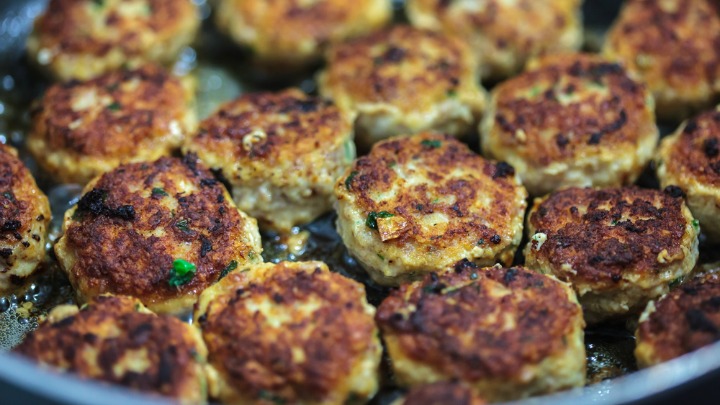 These lovely little meatballs are a great way to stay healthy and keep your protein intake up during the week. Packed with parmesan and herbs they really bring the flavour and stay beautiful and juicy on the inside, while the outside is nice and golden.
You can serve them with a side of mash and broccoli or stuff them into a pita pocket with fresh salad and a dollop of natural yoghurt mixed with sweet chilli sauce. Yum!
Ingredients
1kg turkey mince
1 egg
¾ cup finely chopped onion
2 cloves of garlic, finely chopped
1 cup bread crumbs
⅓ cup grated Parmesan cheese
¼ cup chopped fresh parsley
¼ cup chopped fresh basil
1 tablespoons oregano
2 tablespoons olive oil
Salt and pepper to taste
Method
Ad. Article continues below.
1. Preheat oven to 180C and line a tray with baking paper. Put all ingredients in a bowl and mix together well. Roll into approximately 1.5-inch balls, then place meatballs on tray.
2. Bake the meatballs for 7-10 minutes, then flip and bake for another 7-10 minutes on the other side.
—————————————————–
If you'd like to see more recipes from Starts at 60, click here. And if you have a recipe you'd like to share with the Starts at 60 community – we'd love to share it! Submit them to us by completing the form below.
Submit your article here