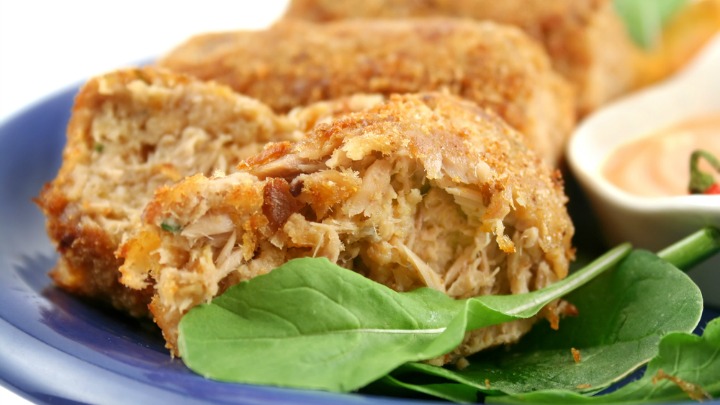 Tuna patties are always a winner when it comes to budget-friendly and easy dinners. This version uses Parmesan for a delicious cheesy hit right in the middle and has a good squeeze of lemon juice for that lovely fresh flavour. Outside, they're coated with breadcrumbs that turn crunchy and golden when you fry them in the pan. You can serve your patties with a nice dollop of creamy mash and some steamed broccoli, or keep it fresh and plate up with a nice garden salad.
Ingredients
2 eggs
2 teaspoons lemon juice
1/4 cup grated Parmesan cheese
3/4 cup Italian seasoned bread crumbs
3 can (6 ounces) tuna, drained
1/4 cup diced onion
1 pinch ground black pepper
3 tablespoons vegetable oil
Method
1. Beat eggs and lemon juice in a bowl; stir in Parmesan cheese and bread crumbs to make a paste. Fold in tuna and onions until well-mixed. Season with black pepper. Shape tuna mixture into eight 1-inch thick patties.
Ad. Article continues below.
2. Heat vegetable oil in a skillet over medium heat; fry patties until golden brown, about 5 minutes per side.
—————————————————–
If you'd like to see more recipes from Starts at 60, click here. And if you have a recipe you'd like to share with the Starts at 60 community – we'd love to share it! Submit them to us by completing the form below.
Submit your article here