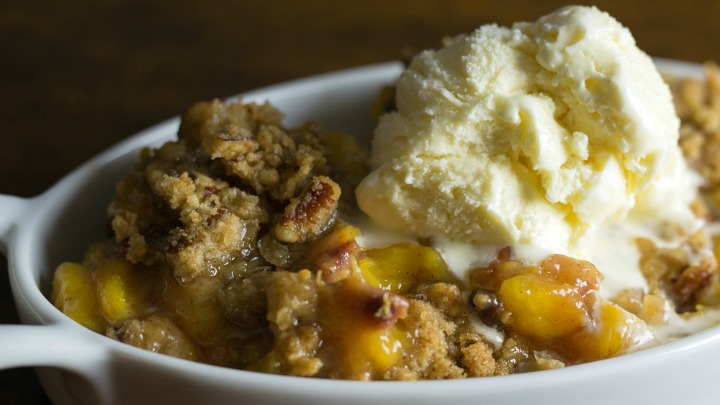 It can be so nice to sit down to something sweet after dinner, but often anything beyond a scoop of ice cream or a piece of chocolate feels like too much effort. Enter the easy peach crumble! This delicious dessert is so easy to whip up and the taste is absolutely gorgeous. This version uses tinned peaches so you can enjoy it all year round – no matter what the season. Instead of sugar, it uses agave syrup which is a great sugar alternative and means you can dollop on a nice big scoop of ice cream or cream when you serve!
Ingredients
3 x 410g cans peach slices in juice
Zest 1 lemon, plus juice ½
1 tbsp agave syrup (in the health food aisle at your supermarket)
140g plain flour
50g porridge oat
25g cold butter, grated
Method
1. Heat oven to 200C. Drain the peaches, but reserve the juice. Tip the peaches into a deep baking dish, roughly 20 x 30cm. Scatter over the lemon zest and juice and 1 tbsp of the agave, then toss everything together.
Ad. Article continues below.
2. In a bowl, combine the flour, oats, butter, remaining agave and 4 tbsp of the reserved peach juice. Mix together, first with a spoon, then with your fingers, until you have a rough crumbly mixture. Scatter over the peaches, then bake for 35 mins until golden and crunchy on top.
—————————————————–
If you'd like to see more recipes from Starts at 60, click here. And if you have a recipe you'd like to share with the Starts at 60 community – we'd love to share it! Submit them to us by completing the form below.
Submit your article here