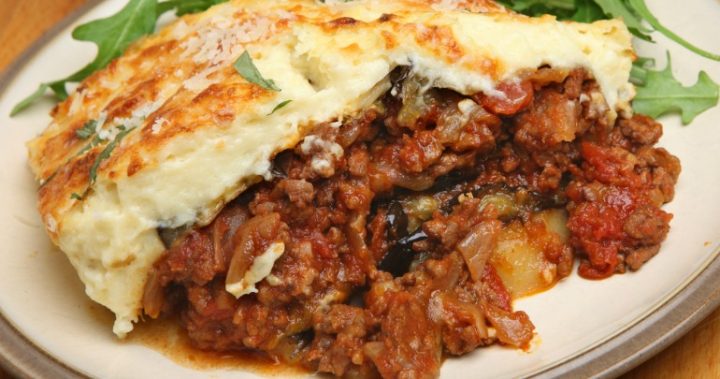 Moussaka is a Greek dish that's full of flavour and a little full-on to make sometimes, too. This version is a quick and easy way to get all that amazing flavour without all the hard work! The mince sauce is a simple combination of lamb (you can use beef, too) and passata sauce and the eggplant is just sliced, roasted and layered. While it's traditional to have a white sauce on top, this version uses a sour cream and parmesan mix to deliver all the flavour and none of the fuss. It's a great meal to have any night of the week when you want something a little different without spending hours slaving away in the kitchen. Try serving with a side salad of mixed greens with a lemon and olive oil dressing, or a few steamed veggies. Dig in!
Ingredients
3 medium eggplant
450g minced lamb
700g (3 cups) tomato passata
300g (1 1/4 cups) sour cream
2 handfuls grated parmesan
Method
1. Preheat your oven to 200C. Slice eggplant about 1cm thick. Place on an oven tray and drizzle generously with olive oil and sprinkle with salt.
Ad. Article continues below.
2. Roast eggplant until soft – about 30 minutes, turning about half way.
3. Meanwhile, brown meat in a hot pan with a little oil. Then add the tomato and simmer for 10 minutes or so. Taste and season with salt and pepper.
4. Cover the base of an oven proof dish with the meat. Layer over the cooked eggplant and top with remaining meat.
5. Mix sour cream and Parmesan then spread carefully over the top, leaving space around the edges if there is not enough to fill out the size of your dish. (It's better for the sour cream mix to be thicker and not go right to the edges than to spread it out really thin just to cover the whole dish.)
6. Bake 200C for about 15 minutes or until hot and bubbly and browned on top. Serve with salad on the side.
Ad. Article continues below.
—————————————————–
If you'd like to see more recipes from Starts at 60, click here. And if you have a recipe you'd like to share with the Starts at 60 community – we'd love to share it! Submit them to us by completing the form below.
Submit your article here