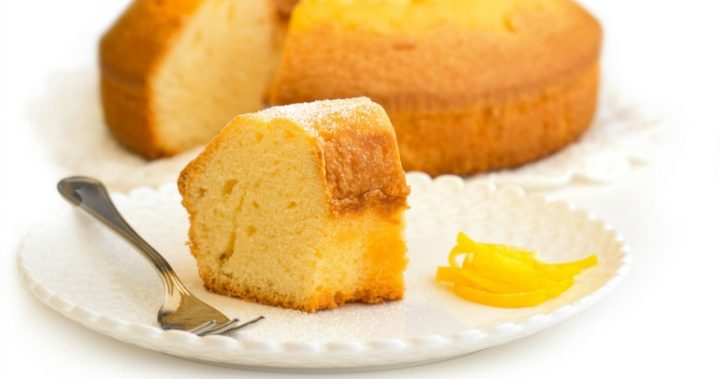 Cakes are one those things we'd love to eat all year round, but when it comes to sticky hot summer days, often the last thing you want to do is eat something really rich and sweet. That's where this delicious cake comes in! It's full of citrusy and refreshing lemon and is lovely and light – the perfect summer cake. The lemon syrup drizzled over the top really seals the deal and instead of cream, try serving with a dollop of Greek yoghurt for something even lighter again. Enjoy!
Ingredients
250g butter, softened
3 teaspoons finely grated lemon rind
3/4 cup caster sugar
3 eggs
1 1/4 cups Greek-style yoghurt
1/4 cup lemon juice
1 1/2 cups self-raising flour
1/2 cup plain flour
Lemon syrup
1/4 cup lemon juice
2/3 cup caster sugar
Ad. Article continues below.
Method
1. Preheat oven to 180C/160C fan-forced. Grease a 24cm fluted ring pan. Use an electric mixer to beat butter, lemon rind and sugar until light and fluffy. Add eggs, 1 at a time, beating well after each addition.
2. Transfer mixture to a large bowl, then add half the yoghurt and half the lemon juice. Stir to combine. Sift half the flours over mixture. Stir to combine. Repeat with remaining yoghurt, lemon juice and flours. Spread mixture into prepared pan.
3. Bake for 50 minutes or until a skewer inserted in cake comes out clean. Cool in pan for 10 minutes. Turn out onto a wire rack over a baking tray. Start making syrup straight away so you can pour it over the cake while it's still warm.
4. Make lemon syrup: Combine lemon juice, sugar and 1/4 cup cold water in a saucepan over low heat. Stir for 2 to 3 minutes or until sugar has dissolved. Increase heat to medium. Bring to the boil. Reduce heat to low. Simmer for 3 to 5 minutes or until thickened. Pour hot syrup over hot cake. Top with lemon zest if you like and serve with a little greek yoghurt.