Easy lemon chicken potato casserole
Growing up, this lemon chicken potato casserole was one of my family's favourite comfort meals. The hallmark of a good casserole is that it's easy to prepare, and this one is no exception. It can be ready to pop into your oven in less than 15 minutes, and it is super tasty. It is full of that classic creamy lemon flavour that is impossible not to love.
Behold the mighty casserole recipe!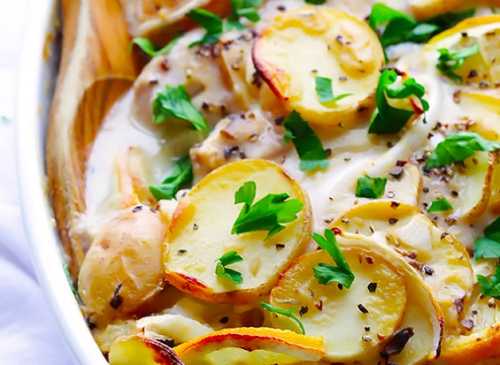 Ingredients: Serves 6-8
2.5 cups condensed cream of mushroom OR cream of chicken soup (equivalent of 2 cans)
1/2 cup milk
700 grams brushed potatoes, very thinly sliced
2 cloves garlic, minced
1 small white onion, peeled and thinly sliced
700 grams diced skinless chicken breasts
salt and freshly-ground black pepper
1 lemon, thinly sliced and halved (into half coins)
Optional garnish: chopped fresh parley or fresh thyme
Ad. Article continues below.
Directions: Prep: 15 minutes & Cook: 45 minutes
Preheat oven to 220 degrees celcius.
Add condensed soup and milk to a saucepan and whisk to combine. Heat over medium-high heat until simmering, stirring frequently. When it reaches a simmer, remove from heat and set aside.
Meanwhile, in a separate large mixing bowl, add potatoes, onion, garlic, and chicken. Pour in the condensed soup mixture, along with a generous pinch of salt and pepper, and gently toss to combine until the potato and chicken mixture is evenly coated.
Transfer mixture to a 9 x 13 baking dish. Tuck lemon wedges into the mixture randomly. Then cover the top of the pan with aluminum foil.
Bake for 1 hour or until the potatoes are tender. Carefully remove the foil, and change oven to the high "broil" setting. Broil the casserole for an extra 2-3 minutes to crisp up the top, watching very carefully so that it does not burn.
Remove pan from oven and serve warm.
What's your favourite casserole dish? Share with us below!