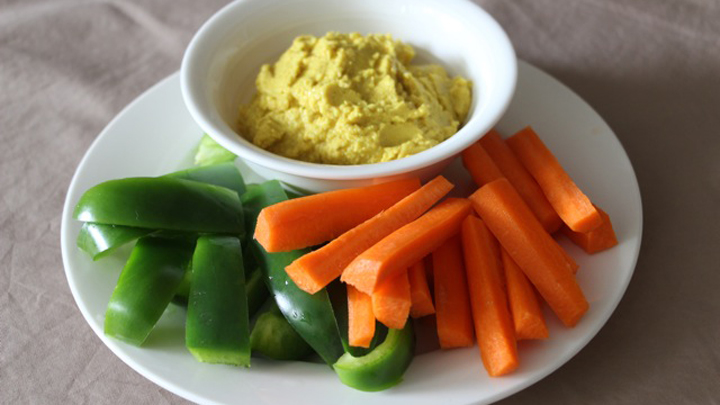 Once you have tried this recipe, you'll never buy the ready-made versions again. It's so delicious and full of exciting flavours.
Store leftover hummus in an airtight container and refrigerate up to 5 days.
Ingredients
400g can chickpeas, drained, rinsed
1/2 clove garlic, crushed
1 tablespoon tahini paste
2 tablespoons olive oil
2 tablespoons fresh lemon juice
½ teaspoon tumeric
¼ teaspoon ground cumin
¼ teaspoon cracked pepper
3 tablespoons water
Pinch of sea salt
paprika
turmeric
Ad. Article continues below.
Utensils
Food processor/blender
Preparation
Place the chickpeas, garlic, tahini paste, olive oil, lemon juice, cumin, pinch of salt, water and pepper in food processor and process until combined. Add water and process until smooth.
Place hummus in serving bowl and sprinkle with paprika and turmeric. Serve with carrot, cucumber and capsicum sticks.
Ad. Article continues below.
Variations
Try experimenting with increasing the quantity of the spice used to boost the nutrition.
You can add a little cayenne pepper if you like it hot!
Add half or a whole jar of artichokes before blending, it will make it slightly lighter and you'll add some very healthy veggies to the mix.
What's good about this recipe?
Ad. Article continues below.
This recipe is part of the Wellvess 8-week arthritis program. Our program is packed with delicious anti-inflammatory recipes, cooking tips, latest research on supplements, exercise tips and a forum to connect with others. All recipes have a section like the one below, highlighting the anti-inflammatory properties of the ingredients.
This dip, based on chickpeas, is high in fibre, protein, phytonutrients and contains slow release carbohydrate that helps to maintain steady blood glucose levels and keep us feeling fuller for longer.
Chickpeas, along with other legumes, have been associated with a reduction in the incidence of various cancers, type-2 diabetes and heart disease.
Turmeric, via its compound curcumin, may help to reduce inflammation. Several studies suggest that it might ease symptoms of osteoarthritis and rheumatoid arthritis, like pain and inflammation. In one study, turmeric worked about as well as ibuprofen for reducing pain. Other compounds in turmeric have also been found to be anti-inflammatory, and it's thought that these components may act synergistically with each other and/or curcumin to block inflammation.
Research has shown that many spices including cayenne pepper possess anti-inflammatory, antioxidant and anti-cancer properties.
Ad. Article continues below.
Tahini packs a lot of protein, more than milk and most nuts. It's a rich source of B vitamins, vitamin E, and important minerals, such as magnesium, copper, iron and calcium.
What recipes and foods help to reduce your arthritis symptoms (or other health problems)?