Easy chicken and potato yellow curry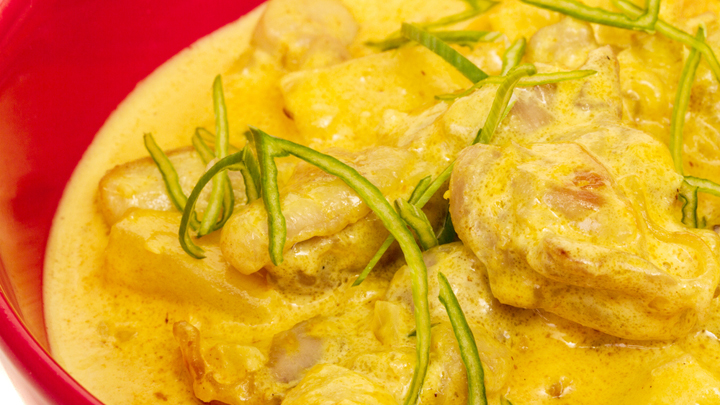 You don't need to spend a fortune buying expensive ingredients to make yellow curry – this simple recipe will give you the most fragrant and yummy curry you've had in ages!
Ad. Article continues below.
Make it for dinner this week or save it for a special occasion!
Ingredients
4 large shallots
4 large heads of garlic
1 x 12cm piece of fresh ginger
5-20 whole dried Thai chilli peppers (5 chillies = very mild, 10 chillies = medium, 15 chillies = medium hot, 20 chillies = HOT)
1.5 tablespoons salt
2-3 tablespoons turmeric
2-3 tablespoons mild curry powder
2 teaspoons roasted ground coriander
3 tablespoons lemongrass paste
¼ cup packed cilantro leaves and stems
Method
Preheat the oven to 180 degrees.
Peel the shallots then drizzle with oil and wrap in foil. Peel the ginger and cut into thin slices. Place in a single layer, drizzle with oil, and wrap in foil. Cut the tops off the heads of garlic so the cloves are partially exposed. Drizzle with oil, and wrap each head of garlic in foil.
Place all the foil packets on a baking sheet and bake for 15 minutes. Remove the ginger (check it's soft), increase the temperature to 200, and roast the shallots and garlic for another 30 minutes until golden brown and very fragrant.
While everything's roasting, pour boiling water over the chilli peppers to rehydrate them. Let them soak for 15 minutes. Drain the water.
Put everything in a food processor or blender and pulse until the yellow curry paste reaches your desired consistency.
This paste can be used to make a delicious curry with potatoes and chicken. Simply boil the potatoes until almost cooked through, then add to a pan of diced chicken. Wait til the chicken is browned and add 1/3 cup of the curry paste with 3/4 cup coconut milk.