Easy cheesy cheddar biscuits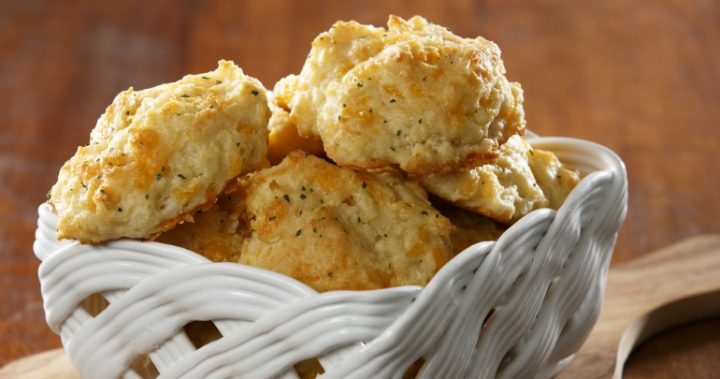 These biscuits are such a great afternoon treat and make a great change from dipping into a packet of sweet biccies come tea time. The flavours here are absolutely delicious, with garlic powder, cayenne pepper and cheddar creating a tasty base and the butter and parsley glaze bringing it all to the next level. You can enjoy them on their own or serve with a soup or slow cooker meal instead of bread!
For the Biscuits:
2 cups plain flour
1 tablespoon caster sugar
1 tablespoon baking powder
2 teaspoons garlic powder
1/2 teaspoon salt
1/4 teaspoon cayenne pepper
1 cup buttermilk, room temperature
1/2 cup unsalted butter, melted
1 1/2 cups grated cheddar cheese (the sharper, the better!)
For the Glaze:
3 tablespoons unsalted butter, melted
1 tablespoon chopped fresh parsley
1/2 teaspoon garlic powder
Ad. Article continues below.
Method
1. Preheat oven to 200C. Line a tray with baking paper and set aside. In a large bowl, stir flour, sugar, baking powder, garlic powder, salt and cayenne pepper until combined.
2. In another bowl, whisk buttermilk with melted butter. Pour this into your dry ingredients and stir until sticky and evenly moist. Fold in cheese. Put a tablespoon-size balls of the dough onto the tray, making sure to leave at least a 1.5cm gap around each biscuit so they don't stick together. Bake for 10-12 minutes or until golden brown.
3. While biscuits are baking prepare glaze by stirring melted butter, parsley and garlic powder in a small bowl. Brush this mixture on top of biscuits as soon as they are out of the oven. Eat warm or keep stored in an air-tight container and enjoy later!
—————————————————–
If you'd like to see more recipes from Starts at 60, click here. And if you have a recipe you'd like to share with the Starts at 60 community – we'd love to share it! Submit them to us by completing the form below.
Submit your article here