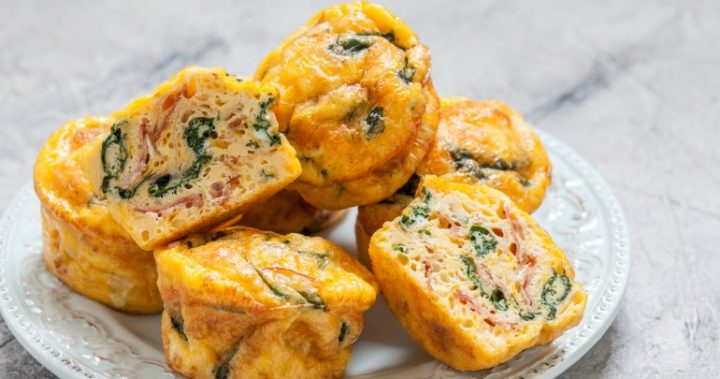 They say breakfast is the most important meal of the day and these delicious muffins are a great way to mix things up a little. They're full of veggies, but the great thing is they're super versatile so you add whatever you have on hand in the fridge. Try mushrooms, parsley or anything else that takes your fancy. Store them in an airtight container in the fridge and enjoy for breakfast or a mid-morning snack.
Ingredients
6 large eggs
½ teaspoon salt
¼ teaspoon fresh ground black pepper
2 tablespoons freshly grated Parmesan cheese
1-2 tablespoons olive oil
1 small onion, chopped
1 small sweet potato, cut into small cubes
½ teaspoon dried thyme
¼ cup red capsicum, diced
100g prosciutto, chopped
1 loose cup baby spinach, roughly chopped
2 cloves garlic, minced
Method
1. Preheat oven to 180C. Grease a muffin pan and set aside. In a large bowl, beat together eggs, salt and pepper until blended. Stir in the Parmesan cheese.
Ad. Article continues below.
2. Heat a skillet over medium heat. Add the oil and onions and cook for about 3-4 minutes, until onions are golden. Add the sweet potatoes and thyme. Cover and cook for 8 more minutes, stirring occasionally, until the potatoes begin to soften. Add the capsicum and cook 4 minutes more. Stir in the prosciutto. Add the spinach and cook for 2-3 minutes, until wilted. Lastly, add the garlic and cook for another 1 minute.
3. Spoon the vegetable mixture into the muffin pan, distributing it evenly. Top every one with 3-4 tablespoons of the egg and cheese mixture. Bake for 15-20 minutes, until lightly browned.
—————————————————–
If you'd like to see more recipes from Starts at 60, click here. And if you have a recipe you'd like to share with the Starts at 60 community – we'd love to share it! Submit them to us by completing the form below.
Submit your article here