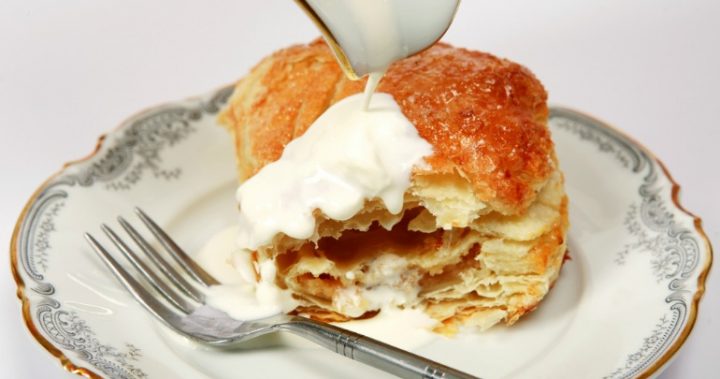 Make afternoon tea a little more special with these delicious apple turnovers! The filling is sweet and beautiful, while the pastry is light, golden and crispy. They're so easy to put together thanks to the use of tinned apples meaning you don't have to mess around with slicing and peeling your own! The recipe makes about 12, so if you don't think you'll get through the whole batch, just store the filling mixture in a container in the fridge and spoon into pastry whenever you need. Yum!
Ingredients
400g can pie apples (available at the supermarket)
1/3 cup sultanas
1 tablespoon brown sugar
1/2 teaspoon ground cinnamon
3 sheets frozen reduced fat puff pastry, thawed
1 egg, lightly beaten
Icing sugar, for dusting (optional)
Method
1. Preheat oven to 200C or 180C fan-forced and line 2 baking trays with non-stick baking paper. Combine pie apples, sultanas, brown sugar and cinnamon in a bowl. Use a saucer as a guide to cut 4 x 11cm rounds from each sheet of pastry.
Ad. Article continues below.
2. Put about 2 tablespoons of apple mixture onto each pastry round and fold over. Press edges with the back of a fork to seal. Place turnovers onto the prepared trays. Brush them lightly with beaten egg.
3. Use a fork to prick a few holes into the pastry. Bake for 15-20 mins, until golden brown. Dust turnovers with icing sugar and serve warm at room temperature.
—————————————————–
If you'd like to see more recipes from Starts at 60, click here. And if you have a recipe you'd like to share with the Starts at 60 community – we'd love to share it! Submit them to us by completing the form below.
Submit your article here