Easy 4 ingredient chicken sausage rolls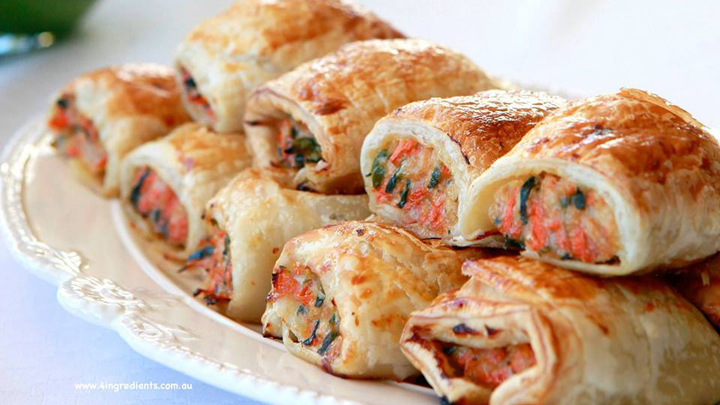 Want an easy recipe you can make quickly and with things you already have in the pantry? Try these delicious 4-ingredient chicken sausage rolls!
*Gluten free option listed below*
Ingredients
2 sheets puff pastry (gluten free puff pastry if required)
500g chicken mince
1/4 cup of honey
1 grated carrot
Ad. Article continues below.
Method
Preheat the oven to 200c.
Mix all of the ingredients into a bowl.
Cut your first sheet of puff pastry in half, place the filling down the edge of the pastry about 2 inches thick all the way down to the end.
Then roll and seal the ends with a fork, then cut into bite sized sausage rolls.
Repeat the process until all the pastry is used.
Place on a baking/paper lined baking tray seamed side down so they don't split when they bake.
Bake for 30mins or until golden.
Herb it up tip
Ad. Article continues below.
We used the parsley Gourmet Garden Lightly Dried for a little oomph.
Swap it tip
Gluten free rolls
2 sheets gluten free puff pastry
500g organic chicken mince
1 grated beetroot
1 tbsp rice malt syrup
Ad. Article continues below.
Veggie tip
If you have any veggies you need to use, simply grate and add to the mince mixture. Zucchini and beetroot work perfectly as does corn. Herb it up with any parsley or fresh herbs you have in your fridge or garden to add oomph to the flavour and the vitamins!
Recipe thanks to 4 Ingredients