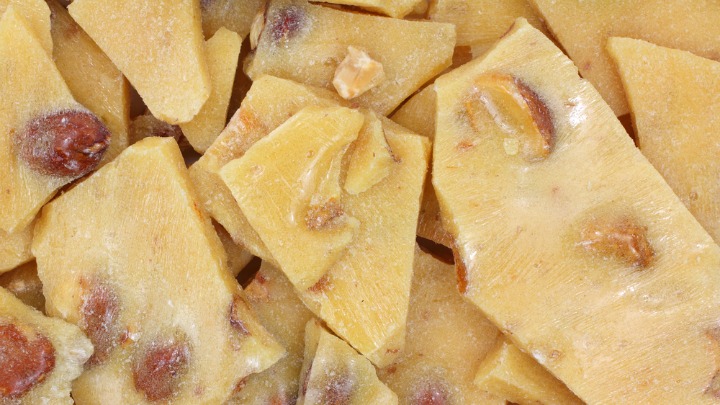 Peanut brittle seems like one of those things that grandma always had in the house when we were kids. It's such a timeless recipe, but now it's back with a quick new trick to churn out the perfect brittle every time. It's so easy to do you'll be making it over and over again and come Christmas it really is one of the best and easiest gifts to give to your loved ones.
Ingredients
1 1/2 cups dry roasted peanuts
1 cup white sugar
1/2 cup light corn syrup
1 pinch salt (optional)
1 tablespoon butter
1 teaspoon vanilla extract
1 teaspoon baking soda
Method
1. Grease a baking sheet, and set aside. In a glass bowl, combine peanuts, sugar, corn syrup, and salt. Cook in microwave for 6 to 7 minutes on High (700 W); mixture should be bubbly and peanuts browned. Stir in butter and vanilla; cook 2 to 3 minutes longer.
Ad. Article continues below.
2. Quickly stir in baking soda, just until mixture is foamy. Pour immediately onto greased baking sheet. Let cool 15 minutes, or until set. Break into pieces, and store in an airtight container.
—————————————————–
If you'd like to see more recipes from Starts at 60, click here. And if you have a recipe you'd like to share with the Starts at 60 community – we'd love to share it! Submit them to us by completing the form below.
Submit your article here